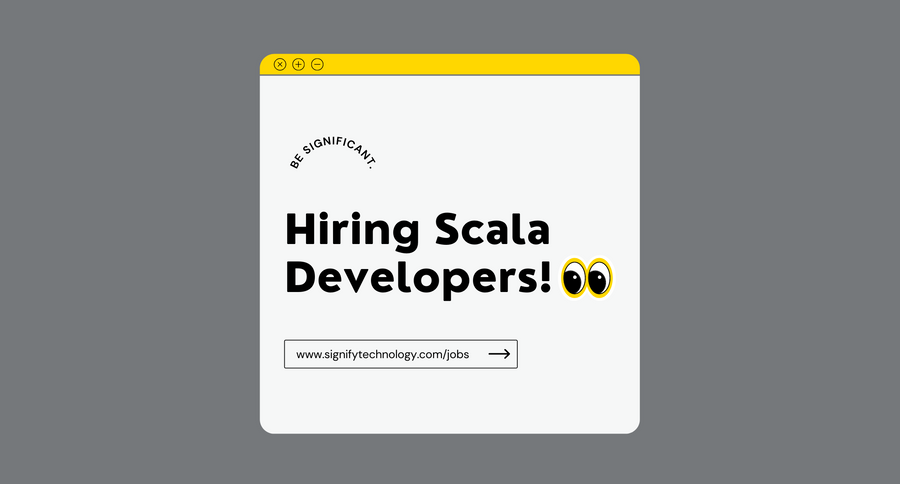 ​If you haven't noticed, the Scala market is hot!!!
Signify Technology is a global hub for everything Functional Programming related. We partner with some of the most innovative and interesting companies, which allow us to help Software Engineers secure life-changing jobs. We provide permanent and contract technology staffing solutions to a wide range of the world's leading brands.
Check out a few of our hot new roles based in the US!!!
Senior Scala Engineer - $175k base
Get in on the ground floor of a cutting edge tech startup that is revolutionizing and modernizing local governments

Have a job where you'll see the direct impact of your work in people's lives

Full autonomy to affect company direction, tech stacks and leading solution projects from end-to-end

Fully remote with EST working hours

2+ years of professional Scala experience
Reach to Sean for more information - sean.urbain@signify-tech.com
​
Scala Software Engineer - Up to $250k base
Join one of the most innovative FinTech companies changing the way consumers view the banking world!

Own the full software development cycle and develop proprietary software & products

Minimum 3 years of functional Scala + open-source web services + Cloud Technology
Reach out to Jason for more information - Jason.Watts@signify-tech.com
​
Grow Exponentially with a Global Investment Firm (San Francisco)
Backend Scala Engineer - up to $200K base w/ 50-100% + bonus structure
Operate in an environment that encourages technical freedom and creativity

Have autonomy over your career growth

Work on diverse challenges and have a direct line of sight in building new features

Mid-level role with strong professional experience in backend Scala

Work amongst the most innovative minds. San Francisco is a culturally diverse city with a booming economy and vast opportunities for employment growth.
Reach out to Nicole for more information - nicole.tinglof@signify-tech.com
​
Lead a Team of Engineers Driving Innovation and Profitability for Brands (New York)
Senior Software Engineer- Backend Activations Team - Up to $190K base, up to $350K total comp
Lead a team that designs, implements, tests, and supports a high-quality, reliable and horizontally scalable platform that delivers terabytes of data every day.

Work for a company that values collaboration, personal growth, and work-life balance

Become a leader in your field by mentoring employees and interns

Currently remote, but soon partially onsite at a beautiful new office space on Madison Square Park
Reach out to Sarah for more information - sarah.mark@signify-tech.com
​
Commercialize a New Mobile Application with a High-Performing Team (Texas)
Scala Developer - Up to $160K base
Commercialize an exciting new mobile application that will increase collaboration and productivity in the workplace

Lead a lean-agile team to develop scalable and robust Scala-based systems in a creative, analytical, problem-solving environment

Work closely with architects, engineers, as well as product and business owners to evolve architectures and design technical solutions using the Lightbend stack

The ideal candidate will have 2-3 years of experience with Scala, Akka and/or Spark

Must be based in Texas or willing to relocate
Reach out to Sarah for more information - sarah.mark@signify-tech.com

If you're interested in checking out more opportunities in functional programming, we update our job search page regularly!
Or simply contact us and tell us a little more about what you're looking for in your next role.