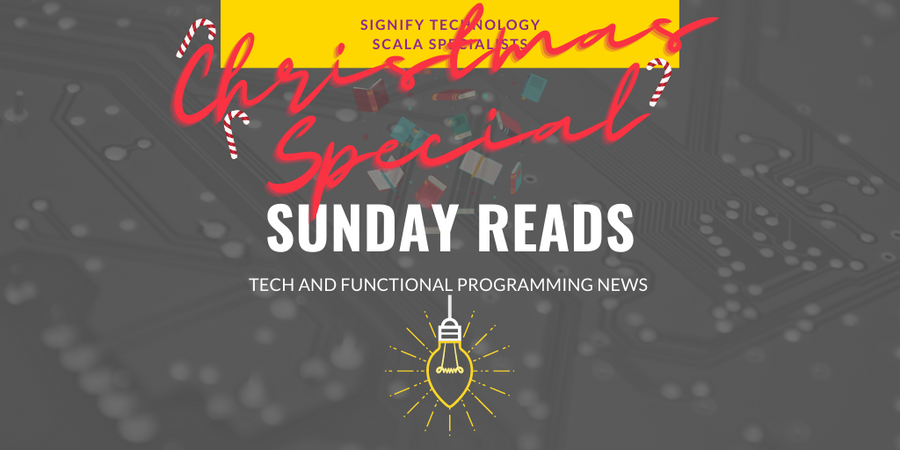 ​This week we thought we would bring you something a little different to our usual weekly round up... a Christmas Special Sunday Reads... some of our favourite picks from the past year!!
This is Part 1of our BEST reads from 2020!
First up, one of our favourite Sunday Reads this year, was of course the Martin Odersky special, featuring a few of our favourite Odersky talks- read here!
Next we've chosen a read from back at the start of 2020, its a really helpful Glossary of Functional Programming Terms by John De Goes; a super-detailed list, presented in alphabetical order, it features terms from Abstraction, to Universal Type and Value.
​Taking a look back to the beginning of covid, we have a blog post from Mark Waks, called NE Scala in the Time of Social Distancing.
Another of our early favourites is What's Ap? by Justin Heyes-Jones, he delves into the programming language, going beyond the basics.
And as Diversity was focused on more than ever this year, by us at Signify and also many of our clients, we featured this less techy read, by Amelia Tait it asks Would the tech world be different if women made up half of the workforce?
We loved Hernan Saab's two-part Akka series...
Part one takes a look at; rendering buttons, setting up the application model, and it is called, Using akka and react to organize your single page scala.js application.
Part 2: The SMAkkaR.js Stack- Using monocle and akka to facilitate model and component reusability in a react scala.js application he looks at setting up monocle and adding/moving lenses.
Stay posted for next weeks Sunday Reads to hear our firm favourites from the second half of the past year!! Or subscribe below and never miss a post again!
​
​