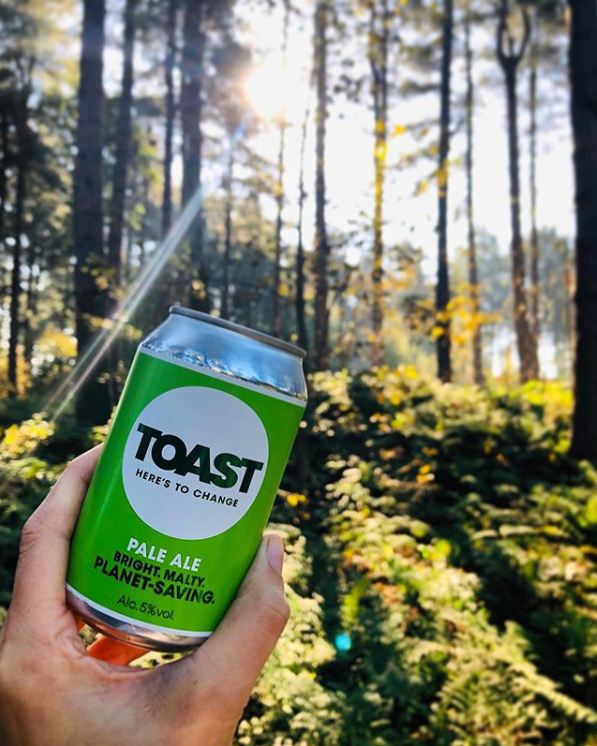 'Toast is an award-winning craft beer, sustainably brewed with fresh surplus bread. All profits go the charity Feedback to end food waste. It's the best thing since, well, you know … '
The Mission
Did you know 44% of the bread produced in the UK is never consumed? Toast's mission is to change that. Food production is the biggest contributor to climate change but one third of all food is wasted. Food production is responsible for 80% of deforestation, 70% of freshwater use, 30% of greenhouse gas emissions and is the largest contributor to soil erosion and biodiversity loss. Yet one-third of food goes to waste. Toast brew planet-saving beer with surplus fresh bread and all profits go to fixing the food system.
The People
We were founded in January 2016 by ​Tristram Stuart​, a campaigner on the environmental and social impacts of our food system.
Tristram Stuart is an international award-winning author, speaker, campaigner and expert on the environmental and social impacts of food . His books have been described as "a genuinely revelatory contribution to the history of human ideas" (The Times) and his TED talk has been watched over a million times. The environmental campaigning organisation he founded, Feedback, has spread its work into dozens of countries worldwide to change society's attitude towards wasting food.
By drinking Toast, you've helped to prevent 1 million slices of bread from being wasted. Stack that up and it's 1.5 times the height of Everest!
Want the detail? We've brewed with 1,023,373 slices: 833,637 in the UK, 131,501 in the US and 58,235 with global partners. Each slice is 12.7mm thick, so our bread mountain rises to 12,997 m. And Everest is only 8,848 m.
By using less barley and preventing bread from going to landfill, we've avoided emissions of 32.1tCO2e. That's equivalent to flying around the world 9.2 times.
Want the detail? Growing, malting and transporting barley uses chemicals and fuel for energy, which release greenhouse gases. Bread left to rot in landfill emits methane. We've avoided 7.3tCO2e from the barley never grown and 24.8tCO2e from the bread diverted from landfill.
By supplementing barley with bread, we've freed up the land and water otherwise used to grow 30 tonnes of barley. That would have needed 7 football pitches of land and 228,768 pints of water to grow. The land can instead be used to grow food or return to nature.
Want the detail? We've brewed with 39,269 kg of bread, replacing 29,750kg of barley. As barley requires land and water to grow, we've saved 8.89 hectares of land and 130m3 of water.
They are a start-up company that is growing and have recently collaborated with lots of different brands. We will be using them at our Tech Helping the Environment event in April because they are a brand that are proactively promoting a more circular economy. You can find them in Tesco, Waitrose, Ocado and Co-op, and in many pubs, bars, shops and restaurants.But we would also really recommend considering them for any conferences or events, they're not only sustainable but make a great talking point and you'll know you're supporting a start-up.
Raise a Toast. Save the world. Cheers
To change the world, you have to throw a better party than those destroying it