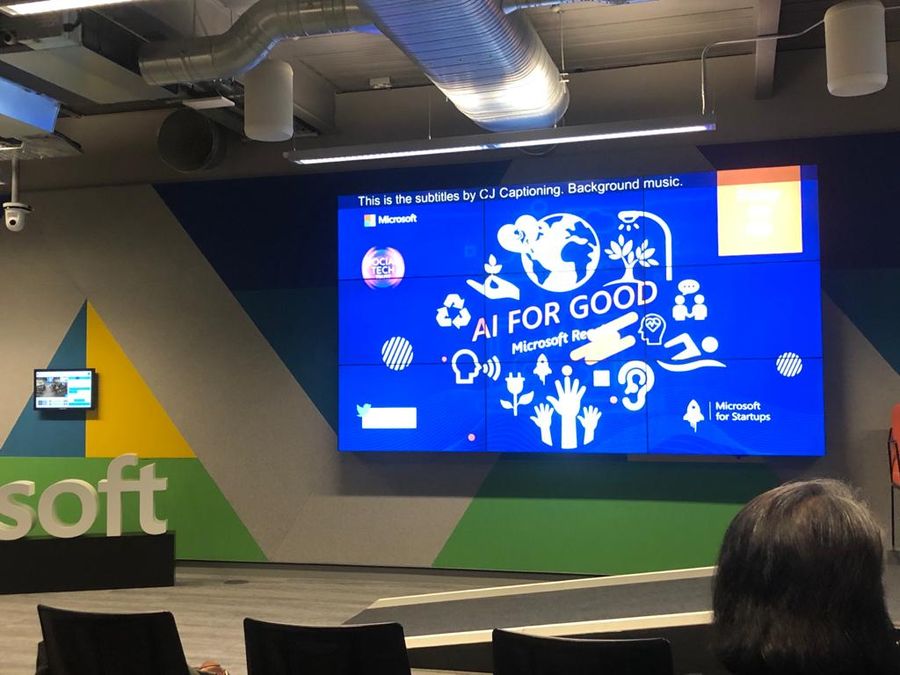 Today we visited the Microsoft Reactor for their AI for good event, which was a chance for everyone in the new cohort for the year to introduce themselves and give a bit of background around what their company does. It was really interesting and as you might have guessed from the name of the event the companies all use artificial intelligence software in products or platforms which have been designed for good - essentially either helping people, the community or the environment. I will simply list the amazing start-ups that we heard from, with a link to there website and a small amount of info about their mission but if you watch out on Monday we will be sharing with you a video contemplation of all the inspiring talks, many of which feature personal stories and are not to be missed!

Baobab Connect
Baobab Connect is a social platform that has been created to help track referrals, improve time management and for the security of clients. But it has been created with justice in mind and its aim is to provide legal aid to those who do not usually have access to it. You can read more about what they do on their website
here!
Chatterbox
Chatterbox is an amazing solution that can help refugees in the UK who are unemployed to work skilled roles and utilise their skills, gained in the country they had no option but to flee from. It is a platform that provides online language learning for professionals and organisations, powered by refugee talent. Chatterbox learners are matched with a
language coach
who shares their professional background and interests to unlock their global potential. Read more
here!
BeneTalk
Has been described as the fit-bit for speech impairment. Digital coach and speech tracker to unlock the potential of people who stutter. BeneTalk's vision is to transform the lives of millions of people who stutter. We want to help eliminate communication barriers, reduce struggle, and stimulate collaborative research into stuttering. Find out more
here!
Akari Solutions
Akari Solutions utilises the latest in edge and cloud Artificial Intelligence & Machine Learning to enable businesses to analyse and present information that was not previously possible. They say, at Akari, we strive to inspire change with inventive and creative technologies to further enable people's experiences. We specialise in delivering Intelligent Cloud solutions, Change Management & Custom applications, creating inclusivity by design, supporting every employee as an individual. Read more about their work
here!
Hello Lamp Post
Hello Lamp Post describes themselves as, a playful engagement platform inviting people to strike up interesting, surprising and often funny conversations with familiar street objects (e.g. lamp posts, bins, post boxes etc) using text messages or Facebook Messenger, encouraging people to look at the city with fresh eyes and see it as a playground. They are changing the way we interact with the world around us and will not only improve peoples knowledge of where they live but will help councils to gather information and could reduce loneliness. Read more about them
here!
good boost
Good boost is a start-up that is essentially concerned with muscular issues which can be improved with exercise but the person is for perhaps a number of reasons unable to do so in the usual capacity. Good Boost is a water-based rehabilitation programme designed to be fun and beneficial for people with a wide range of health concerns. Also known as aquatic therapy or therapeutic aquatic exercise, the treatment is highly regarded for a number of musculoskeletal issues. Read more about the work they are doing
here!
eco sync
Eco sync have creates a cloud-based platform for existing building technologies, they use IOT devices and machine learning algorithms to only heat the rooms in buildings, like offices and healthcare facilities that are booked and being used, to save lots of wasted energy. Click
here
to read more about what they do.
mii care
This new innovation has been called an Alexa for the elderly. The idea behind miiCARE was engineered by our founder, Kelvin Summoogum. He decided to work on the concept motivated by the tragic loss of his grandmother, following a fall at home. Kelvin's grandmother lived alone at home and like most elderly people, she resented the idea of moving to a care home. Instead, she wanted to spend the rest of her life in her house – her place of heritage which she and her husband worked all their life for... Read more
here!
My Cognition
The MyCognition apps are a market-leading tech platform proven to enhance mental health & cognitive fitness through a structured course of insight, assessment and training. It is a market-leading digital platform that enhances cognitive fitness through a structured programme of insight, assessment and training. Find out more about their work
here!
Orxa Grid
Orxa Grid is an innovative tech startup that envisions an ultimate transformation of the existing electrical grid into one that is predictive, intuitive, and responsive. Our smart IoT sensors and predictive analytics monitor and provide insights into electricity and asset condition. Our solutions leverage the power of artificial intelligence, machine learning and industry-specific knowledge that deliver value to grid operators and large energy consumers immediately. Find out more about their smart solutions
here!
Recycleye
Recycleye is working to change the way that we recycle, making the process more accurate, more cost-efficient long term and much safer. Accelerate the transition towards a circular economy by providing machine learning tools to enable smarter characterisation, ubiquitous tracking and automated sorting of waste. Check out their mission
here!
Signly
Lloyds bank has launched this start-up Signly, it is the first British sign language online translation tool, which will help Deaf people to read and understand important and personal documents or web pages. As they say, the British Deaf Association estimates that there are around 151,000 sign language users in the UK. Wouldn't it be great if you could get a BSL translation of any and every webpage? It could positively transform Deaf people's lives. Read more about the amazing work they are doing here!