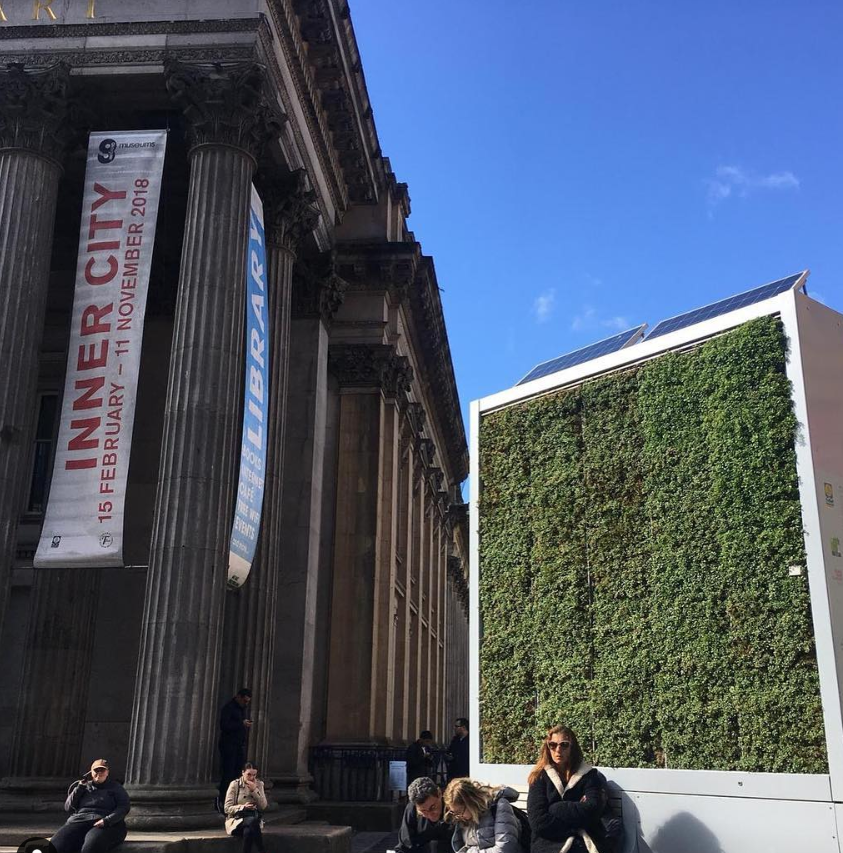 Here at Signify Technology, we love learning about new technology, especially that, which offers a sustainable solution to a problem and helps to make our cities and the world a little greener. Green City Solutions is paving the way for the progression of cities to be a healthier environment for people to live and work. We caught up with Felix the CMO at Green City Solutions, who shared with us the company's ethos and the technology they are currently developing.
Could you tell us a bit about Green City Solutions?
Green City Solutions is Green-Tech pioneer from Berlin. The young company is working on realizing an extraordinary vision: to create urban living spaces where people can live healthier. The core product - a moss powered air filter - is based on the unique idea of combining nature with IoT technology to improve air quality. Over the past five years, Green City Solutions has already worked with many cities across Europe that are also tackling air pollution. We are a German green-tech enterprise that is now funded by the European Commission to set up and scientifically test a CityTree network of 15 brand new units in Berlin's pollution hotspots next year.
What technology is Green City Solutions currently using and developing?
Moss naturally filters pollutants from the air very effectively. Using remote technology, the CityTree combines this moss air-purifying factor with remote technology to increase the airflow through the "trees". This allows them to "suck up" and clean more air than normal, and the amount they filter can be increased depending on pollution levels at different times of the day.
Our innovative technology – a sustainable fine-dust filter - has improved considerably due to the many learnings from these test runs. The newest product generation will be presented to the public in Berlin in March 2020. The latest test-results and measurements are very promising. We are looking to further substantiate our measurements this year during our Horizon2020 test-campaign in Berlin together with our science partners Leibniz Institute for Tropospheric Research and Institute of Air Handling and Refrigeration (ILK).
What do you think needs to be done to fight air pollution?
We hope to find the right clients and partners soon to scale up our solution so it becomes a natural component of any given building or infrastructure. Our moss filter can be adapted to any environment. The construction contains sensors collecting environmental and climatic data to regulate and control the unit and ensure that the moss survives.
But even the most performant CityTree will not solve the problem of air pollution alone. Our solution can only be one small part of the puzzle in fighting air pollution. It will take all stakeholders and many different measures to combat this global health threat. We want to play our part by introducing a biological and thus sustainable air filter that combines plants with IoT to make a difference in urban hotspots.
What inspired you to tackle air pollution, and why do you think this is a problem?
Every day 90 percent of inhabitants in cities breathe polluted air, causing death and disease. The major components of air pollution are nitrogen oxide, ozone and especially fine dust, or particulate matter, all of which shorten our life span. At the same time, our global population is moving to urban areas in unprecedented numbers.
When 26-year-old Peter Sänger and 34-year-old Liang Wu got together, they realized right away that they had something in common. Both firm advocates in the fight against air pollution, they believe that if you can't measure it, you can't beat it.
That's why they founded Green City Solutions: "The solution to quantifiably improve city air." Their invention the CityTree acts as both an air purifier and a spectacular plant display. Rooted in science, the vertical flat-paneled "trees" dotted around cities across Europe eat air pollution and double up as seats for pedestrians.
Sänger and Wu's vision is for a world in which people in cities can live healthily. They aspire to create living conditions that allow all people around the world to permanently have cleaner air to breathe.

The image above was taken from the Green City Solutions Instagram page.

Thank you for chatting to us Felix!