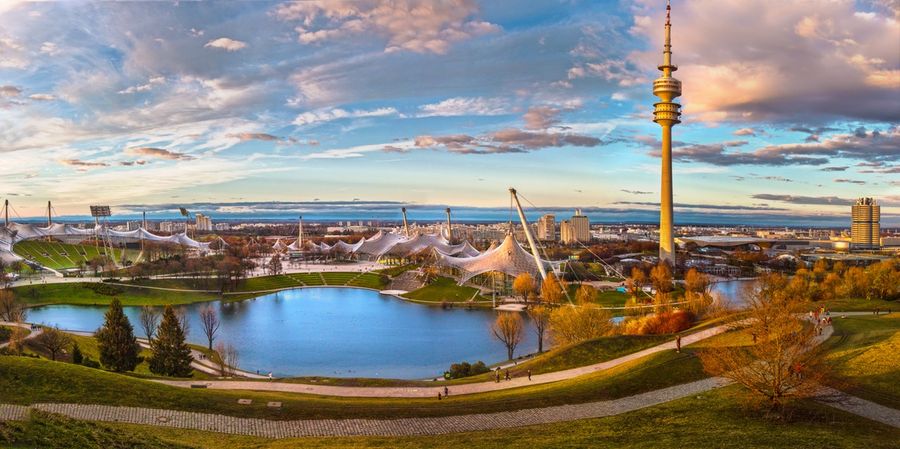 Munich, Bavaria's capital, is home to centuries-old buildings and numerous museums. The city is known for its annual Oktoberfest celebration and its beer halls, including the famed Hofbräuhaus, founded in 1589. Munich's location - close to Italy and Austria - makes it a great location for outdoor enthusiasts. Home to 1.54 million people, Munich is the third-largest city in Germany, it is particularly attractive to young, well-educated adults. Forecasts indicate that the resident population will exceed the 1.7 million mark in 2030.
Tech
Although Berlin is the capital of Germany, Munich (capital of Bavaria) is a critical business center and vital hub for engineering, technology and automotive innovation. For example, Munich is home to the headquarters of Siemens AG, BMW, MAN AG, Linde, Munich Re and Rohde & Schwarz, therefore, it has the highest purchasing power of any German city. For software developers interested in working in Munich, Bavaria's dominant economic position has a number of implications. Wages are higher here than in Berlin, but so is the cost of living. There is a broader choice in types of companies and industries to work for, but fewer startups, so to give a rough analogy, Munich is to Berlin what New York is to Silicon Valley - it ultimately depends on what you are looking for. Having said that, despite fewer startups, Bavarian automotive, finance, and media giants based in Munich are eager to cement Germany's reputation not just as a traditional engineering powerhouse, but also as a world leader in software engineering, which makes Munich a rather exciting place for software developers to be.
While TV and production dominates in Cologne, publishing rules in Berlin and Hamburg, and advertising leads in Düsseldorf and Frankfurt, Munich's media sector is known for its diversity. According to Munich's Department of Labour and Economic Development, there are 8,100 companies in media in Munich, with close to 30,000 employees.
Honeypot found that the three most popular backend languages in Munich are Java, PHP and Python. We found that 38% of companies used PHP in their tech stack, 30% used Java and 14% used Python.
If not to show off just how 'techy' Munich is, the city actually has its own app - called Munchen.De - cleverly you can find information on events, shopping, sightseeing, where to find an ATM, pharmacies and hospitals, Wi-Fi Hotspots, and recommendations on where to eat and drink.
Transport
Although not on the same level as Copenhagen or Amsterdam, yet many people choose bikes as their method of transportation in Munich. The city has a great infrastructure for cycling and it is much easier than in other metropolitan cities such as London. The busses, trams, trains and metro in Munich are highly efficient, clean, and well organized. They are almost never late and when they are the MVG (Munich's public transportation company) always makes sure to let people know the reason for the delay. Of course, this does mean that the public transport in Munich is slightly more expensive than London prices and a day ticket for the inner city costs around €6.20 per person, while for the entire network costs 12€. For frequent use the best option is a monthly or weekly pass, called IsaCard, they cost around €74 for around 4 zones - not cheap but in comparison less than a monthly pass in London.
Safe, relaxed lifestyle
There is and always will be crime all over the world but you shouldn't worry about safety being an issue when moving to Munich, it is the third safest city in Germany. The Germans, in general, are crazy about Grillen – making barbecue, in German – and in Munich, you will do it a lot during summer. Often hosted in the parks, in their gardens, sooner or later you will be invited to one. One place which you might be invited to for a Grillen is a Biergarten - but this is not a place to go once in a while, it is to go as much as you can and find any excuse to go again. Especially on sunny days, people get off work earlier just to meet up with friends/co-workers for a beer at a Biergarten. It's not all about the local German food, Munich, like many cities, offers a variety of food and drink. There are restaurants serving food from everywhere in the world, for everyone's taste, from Ethiopian to Brazilian, from Italian to Asian. If you are a pet lover, Munich is very pet-friendly and dogs are allowed in most cafes, bars and shops, as well as on public transport.
Green City
There is a park or green space in almost every neighborhood in Munich. The most famous being; Englisher Garten, the Olympic Park, and the Nymphenburg Park. Germany is number 1 in the world when it comes to recycling, according to data provided by OECD. It is an important topic in the country and as a newbie, you need to know how it works. An absolutely incredible initiative in Germany, one which the rest of the world should take notes on, is that you can get money back for returning your bottles. Depending on the bottle (one way or more/Einweg or Mehrweg), you may get 8 to 25 cents back. You can return them on supermarkets and at the Getränkemarkt (beverage store), you will then receive a receipt, which you can exchange for money in the cashier or deduct from your shopping. This of course also means that the streets stay cleaner because often the homeless will collect any empty bottles and trade them in at a shop. You might notice that in big cities, like Munich, some people leave returnable bottles in bins on street corners so for homeless people to actually return, to help them get some money. If you are still stuck for where to put your recycling, in true Munich style there is an app that can help you out! Check out; AWM ABFALLWIRTSCHAFTSBETRIEB MÜNCHEN.
Tax and local economy
At 62.8 percent, Munich's employment rate is higher than that of Stuttgart, Frankfurt/Main, Hamburg, Düsseldorf, Cologne and Berlin. Compared to the same group of cities, an average of 34.3 percent of Munich's socially insured employees possess academic degrees – by far the highest proportionate level of qualifications. Munich's Gross Domestic Product (GDP) has increased by over 20 percent in the last 5 years. In the same period, Bavaria's GDP grew by 15 percent, Germany's by 13.6 percent. Income tax in Germany is progressive: first, income tax rates start at 14%, then they rise incrementally. The tax rate of 42% applies to taxable income above €55,961 and for taxable income above €265,327, a 45% tax is applicable. In addition to income tax, everyone has to pay a solidarity tax, which is capped at 5.5% of your income tax.
If Munich's diverse, relaxed lifestyle is something you could see yourself living, we have lots of live roles for you to check out!