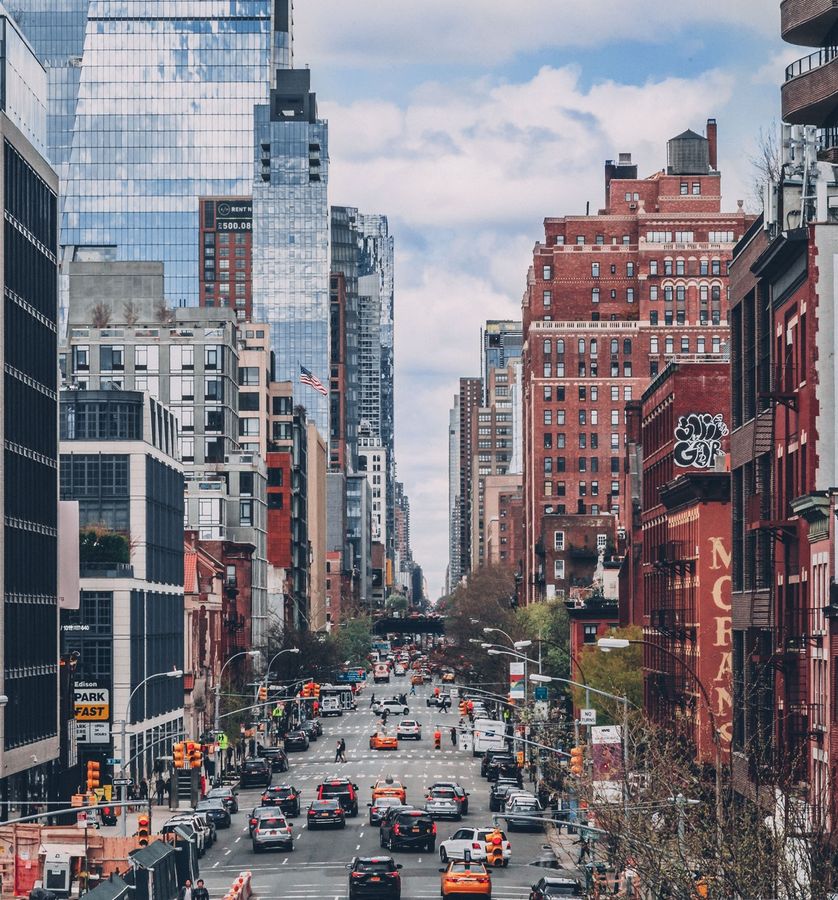 New York is often described as America's melting pot and 36% of new york's citizens originate from other countries. Therefore, creativity thrives and you are never too far away from something to, as Alicia Keys once said, inspire you. New York is the most religiously diverse cities in the world, with figures constantly changing, as the city's spirituality evolves. Hustle and Bustle of the streets, big and small, means you never walk alone. Although the city population is 7.4 million, networking is super easy because everyone knows someone and are they are more often than not very happy to put you in contact or recommend you. Although New York is a big city, all of the neighborhoods have distinct personalities, meaning it feels like more of a collection of small towns and is never bland. There's lots to choose from, Manhattan, Brooklyn, Queens each with elements which separate them from one and other, a visit to a coffee shop in a different neighboorhood only a 30-minute train ride away could feel like you're exploring a completely new place entirely. This results in a huge variety of restaurants, clubs and Broadway shows. Although many would love to try it would be nearly impossible to visit every cafe and restaurant on offer.
Another reason people love New York is because of its convenience, which again is a result of the vast variety of services. Again most people would have heard New York be described as the city that never sleeps, the city is not only alive with the energy of the bright lights but also human energy, it is a city that constantly moves forwards and moves fast. Having said that you can find a quiet spot in one of the rooftop bars to people watch from above. The fact the city is alive 24/7 means you can pretty much choose whatever schedule you would like.
New York is home to some impressive landmarks, most notable is The Statue of Liberty, as it is a true representative of what a liberal city New York is. New Yorkers may be described as tough and resilient but definitely not hard-hearted. They are open-minded with a passion for intellectual and creative freedom. Then there is, The Empire State Building, St Patricks Cathedral, Grand Central Station and Central Park, which spans over 843 acres and is a welcome patch of green to available to stroll through or have a morning run in the hot summers. Although upon moving to New York you may not want to be a tourist every weekend and visit these landmarks again and again. But that doesn't mean the novelty of glancing the Empire State Building on your commute to work will wear off. You could definitely still appreciate and admire them. There are also many museums, some world-famous and some small and quirky, you could easily spend hours in each one.
Despite the higher rate of expenses so many people continue to gravitate towards New York. So we know this probably wouldn't be the deciding factor when considering a move but thought it would be a nice bit of additional information. The price of the average coffee is $4.62, a beer is $7, a subway ticket is $2.75, a loaf of bread is $3.74 and an average month's rent in a one-bedroom flat, central New York is $3,103.98.
At Signify we offer roles globally and at the moment we have a lot of live roles that need filling in New York, please see below and click the links if you are interested in relocating to New York.
https://www.signifytechnology.com/job/scala-developer-aws-and-distrusted-systems-new-york/
https://www.signifytechnology.com/job/scala-fullstack-engineer-slash-developer-play-slash-angular/
https://www.signifytechnology.com/job/scala-software-engineer-slash-developer-functional-programming-and-algorithms/
https://www.signifytechnology.com/job/senior-backend-software-engineer-scala-slash-microservices-slash-aws/
https://www.signifytechnology.com/job/senior-software-engineer-slash-scala-slash-functional-programmer/