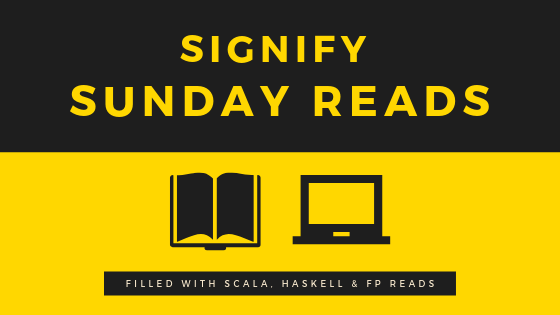 Happy Sunday!
We hope you've had a great week and we're ready to help you top it off with a collection of functional programming reads.
Sunday Reads
Our first post is from Krzysztof Grajek, Senior Software Developer. This post is called GCP Goodies Part 6— Stackdriver Tracing.
Our second read is from John De Goes, Founder at Stealth startup. This post is called The False Hope of Managing Effects with Tagless-Final in Scala.
Our third post is a Corecursive podcast with Heather Miller, Assistant Professor. This podcast is called the Open Source Health and Diversity with Heather C Miller.
Our fourth post is from Mirco Dotta, triplequote Co-Founder. This post is called Rock your sbt build time: Understand how sbt works.
Our fifth post is from Jay Kreps, Confluent Co-Founder. This is the Confluent, Kafka Summit 2019 Keynote.
Our final post is from Jichao Ouyang, Senior Developer. This post is called 3 Layer Scala Cake.
Don't miss out on all the reads from last week, catch up here.
Don't forget to subscribe to our Sunday Reads Newsletter and be the first to read all the latest articles and receive it straight to your inbox, sign up below.