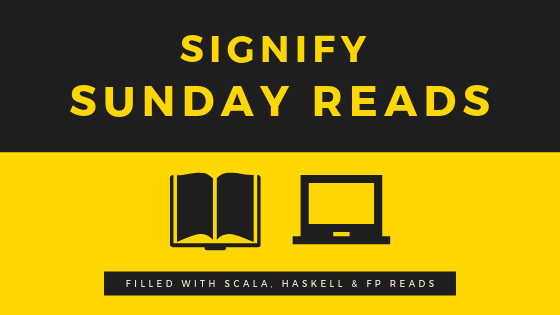 Happy Sunday!
We hope you've had a great week and we're ready to help you top it off with a collection of functional programming reads.
Sunday Reads
Our first post is from Adam Warski, CTO of SoftwareMill. This post is called Websockets in Scala using sttp.
Our second read is from Alexandre Archambault and Sébastien Doeraene. This post is called Better Management Of Transitive Dependencies And Conflicts.
Our third post is from Adam Rosien, Principal Engineer. This is Adam's slides from his Lambda World talk called Writing Programs That Write Tests: Better Testing With Scala.
Our fourth post is from Tereza Sokol, Software Engineer. This post is called Haskell, in Elm terms: Type Classes.
Our fifth post is from Yulia Gavrilova and Gints Dreimanis. This is the Software Written in Haskell: Stories of Success.
Our final post is from Ola Puchta-Górska, Marketing Manager at SoftwareMill. This post is called My Way to Scala — part 1.
Don't miss out on all the reads from last week, catch up here.
Don't forget to subscribe to our Sunday Reads Newsletter and be the first to read all the latest articles and receive it straight to your inbox, sign up below.