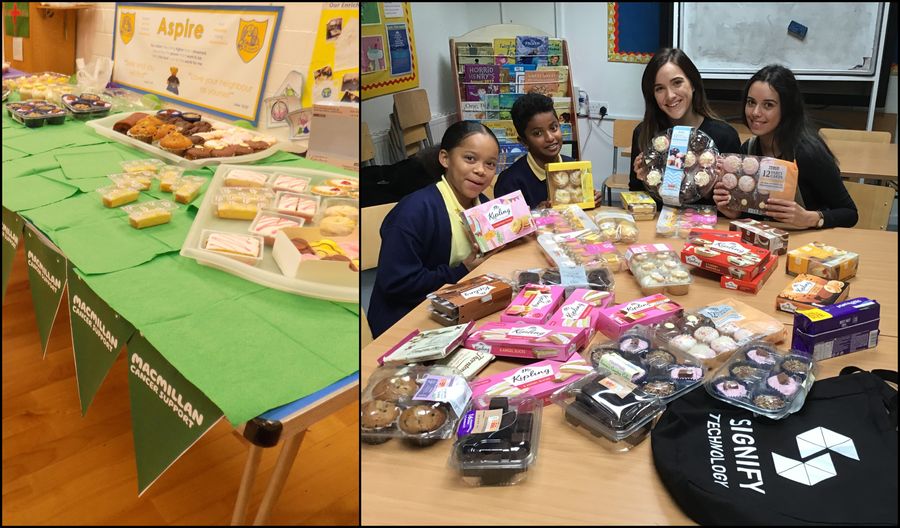 Cake and Charity, what are two better things!
This year, for the annual Macmillan Coffee Morning the Signify team wanted to go the extra mile. Instead of eating all the cake we possibly could, we thought we would give one of the local schools a helping hand.
St. Lukes Primary, Islington were putting together their plans to hold their Macmillan Coffee Morning where parents, teachers and pupils would have the chance to purchase and enjoy lots of cake in order to raise money for the deserving charity.
At Signify, we were keen to help them raise as much money as possible, so off we went to buy as many varieties of sweet treats which we then donated to St. Lukes Primary for their Macmillan bake sale. (yes it was hard giving over the cake but it's for charity!)
We might have gone a bit cake mad...
It was lovely to have the opportunity to meet Head of School, Jessica Cameron, where she told us about all the amazing activities the children get involved in to raise awareness and funds for charities so we feel very privileged to have the chance to have played a part in their Macmillan Bake Sale.
We are really proud to announce that St.Lukes Primary raised an outstanding £114, well done!
Now we're off to eat more cake...