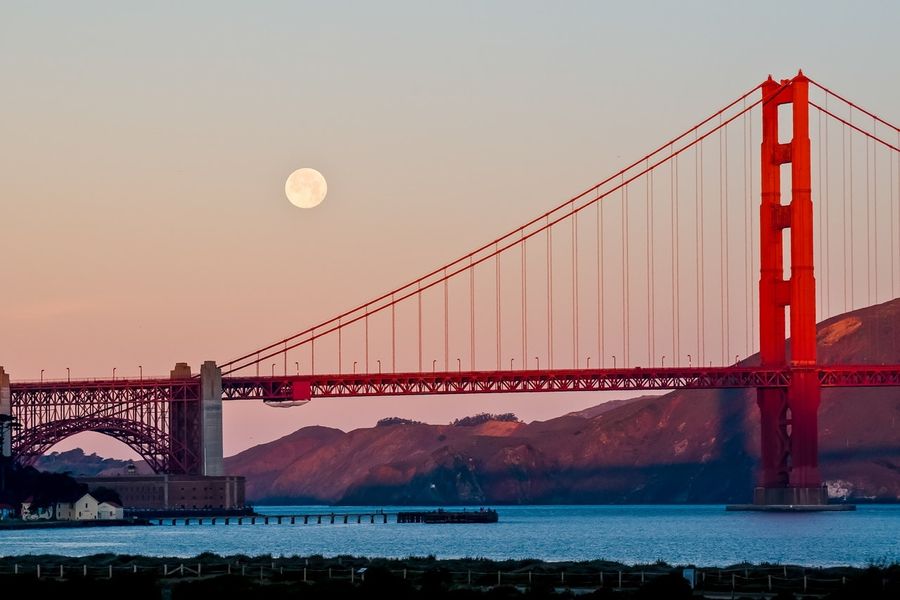 One of the most popular tourist destinations in the world San Francisco is a beautiful City offering breath-taking views and when you are not taking in the views you can fill your time with the many experiences it has to offer such as the famous cable cars and the abundances of restaurants with the most amazing food. So we have put together a handy San Fran list of all the reasons why we would love to live there!
Interesting facts to know
You will never run out of new restaurants to try here. At any given time, there are more than 3,500 restaurants open in San Francisco.

The San Francisco International Airport is supported by 267 columns that each rest on a steel ball bearing, allowing the ground to move 20 inches in any direction during an earthquake.

The U.S. Navy originally planned on painting the Golden Gate Bridge black with yellow stripes. The famed "International Orange" colour was supposed to be a sealant but the architect loved it so he kept it that way.

San Francisco hosted the last official concert of Beatles in 1966. So if you're a Beatles fan you may have been there!
Why you'll want to settle in San Francisco
The incredible views. San Francisco offers the most amazing views with rolling hills, the Golden Gate Bridge and when the enchanting fog rolls in you will be amazed at how picturesque the City looks. Also, be sure to check out the pretty buildings and architecture, the Painted Ladies are one of the sights to be seen, you will definitely get some great Instagram's.
The weather. If you're looking for a city where there is such a thing as an all year round wardrobe then San Fran is for you. With mild temperatures throughout the year, you can be certain to count on the fact you won't need to worry about wrapping about and bracing for snow or not being able to go outside in the sweltering heat. Although be sure to take a light jacket for the evenings as like anywhere else it can get slightly chilly.
The cable cars. They are one of only two mobile national monuments in the country, so they are well loved by both the locals and tourists. You can also see some of the most stunning views riding the cars so be sure to jump on one and experience it for yourself. You never know, it could end up being your daily mode of transport.
What's working life like?
If you work or are looking to start working in the tech industry then San Fran is the place to be. With many tech companies headquartered in the city such as Twitter, Pinterest and Apple Inc. many who are inspiring to join head over with the hope of breaking into the industry. Along with this if you are not a fan of getting all suited and booted every morning then you're in luck as many companies are in favour of a casual dress code. Overall, if you're looking to work hard but maintain a good work-life balance then this is for you.
​
Would you move to San Francisco or have you been before? What's your favourite thing about the City?