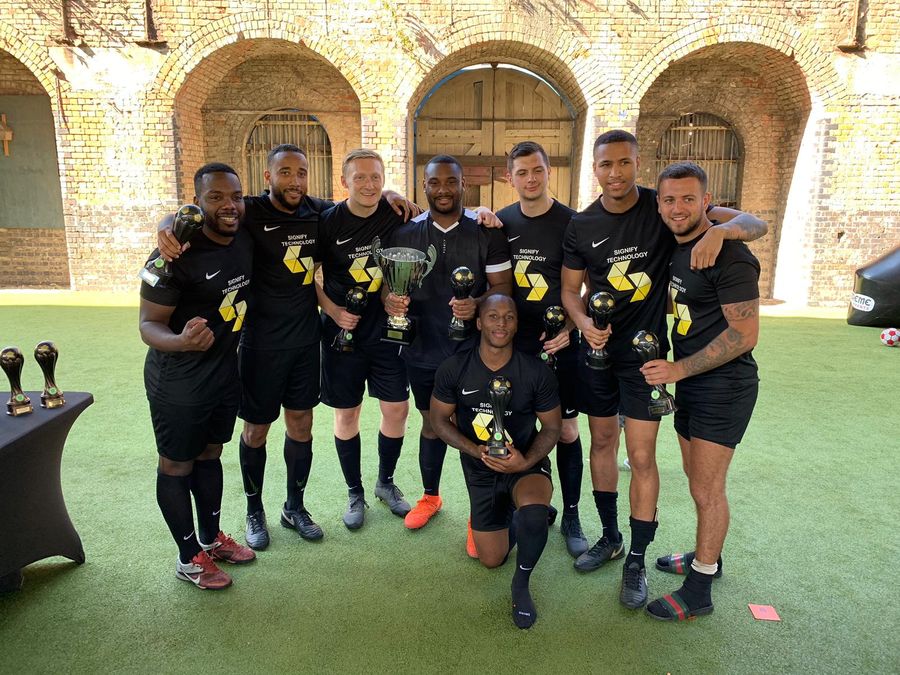 On Saturday, Madison Warner held their annual MW Recruitment 5-aside Tournament, which is not only a great day of football but an initiative to raise awareness and money for CALM, a charity with the mission to Campaign Against Living Miserably. This men's mental health and suicide prevention charity carry out incredible work to help those in need.
The Signify football team came away as the Tournament winners but we are also thrilled to announce that they donated all of their winnings of £1,000 to CALM.
Director of Madison Warner, Paul Kelbie sat down with our Director Ryan to discuss why they think charity is important as well as implementing health and fitness into the company.
'The sun showed up, the talent arrived, and the Shoreditch Powerleague pitches were crisp. It was inevitable that this year's 'Madison Warner Recruitment 5-aside Tournament' was going to be a huge success! We decided that for the 2019 tournament we really wanted to give something back and decided as a team to raise money for CALM – Campaign Against Living Miserably charity which focuses on male mental health and suicide prevention.
The message that we wanted to convey from our football tournament is that the recruitment industry is a community. Although it is also an extremely competitive industry, it is amazing to see hundreds of recruitment professionals come together from all across London & even the Midlands for a mutual cause!
We managed to raise £273 of donations for CALM on the day and they are still coming in, which is amazing, thank you so much to everyone who donated!
But it does not end here! Signify Technology, our winners for the 2nd year in a row were awarded £1000 in Selfridges vouchers for 1st prize, but spoke with us and said not to buy the vouchers but donate the £1000 winnings to CALM! We are beyond ecstatic at their generosity and how they have backed us on our mission to support this charity, we really can not thank you guys enough!
That brings our total up to £1273 so far with teams still to donate (no one carries cash these days)!
Our MD Paul Kelbie sat down with Ryan Adams, Founder of Signify Technology, to talk about the importance of mental health and why they both, as Directors of a company find it so important to support organisations such as CALM.
Why do you think that Signify has won the MW 5 Aside Football Tournament two years running and do you have team tactics?
"The main reason is that a lot of our players have played at semi-professional level. A few of us have played together for a few years and we actually had a weekly team in the Shoreditch 5-aside league. As a team we all know our strengths and we always want to be the best at everything we do.
Last year we won the tournament, but we did not know the standard and we were pleasantly surprised! This year we knew the standard was going to be even higher so we held internal trials within the company, so it was competitive before we even got there. We rested and rotated our players throughout the day and aimed to get as many goals in in the early stages so that we could keep our best players fit for the latter part of the tournament."
Thank you so much for your donation, why did you decide to donate the £1000 prize to CALM?
"One of the things we love doing most at Signify Technology is giving our time to aim to raise awareness and money for charities; we have supported Cancer Research, St Christopher's and Great Ormond Street charities in the past. The way that we do this is by doing some sort of exercise challenge, we have done Tough Mudder this year, numerous 10k runs and we try and get everyone in the office to participate.
We love supporting charities, especially a charity like CALM because recruitment is stressful, demanding and at times you may feel like you have got no one to turn to. It's a very relevant charity to the recruitment industry."
Why is the cause for CALM important to you as a Director?
"As recruitment is a highly male-dominated environment there are a lot of proud guys that probably won't want to put up there hands and ask for help, that's why in our business we try to support our team in loads of different ways and CALM represents a lot of values that we also live and breathe in our company culture.
Again, because recruitment is a stressful and a high-pressured environment, men need to learn to speak to people and ask for help when it is needed, and most importantly not be too proud.
It has certainly, as a Director, taken me a long time to break down the barriers for the men that work in my company for them to trust me and be able to say they are not okay and that they may need help or guidance in their role."
Do you feel a responsibility as a Director to reach out to your staff and how do you do this?
"Yes, 100%. We do loads of things for staff wellbeing. We most recently have started running a fitness health league table and give out prizes each month, for things such as going to the gym, eating healthy and running to regularly catching up with the guys. I have weekly/monthly/quarterly/biannual reviews in a one on one situation to allow them to talk. We do company yoga, and much more to make sure that people can ask for help when needed."
How do you keep your team positive and motivated even when they reach hard milestones or even just hard days?
"Incentives, we do loads of company events and performance related rewards."
It's great that you guys aren't just focused all around boozing..
"On a Friday night you would be more surprised if people were going out than going home. Occasionally we do company events that involve alcohol, but they are not as often or stereotypical as normal recruitment company cultures. We used to have a beer fridge but now we have exchanged that for fruit and healthy eating. We find it important that in our office we have big massive windows with natural light, this helps with productivity!
I genuinely do feel like I do care about my staff and I try to make sure that everyone is okay, sometimes I think I care too much and can go home sometimes overthinking that I hope everyone is all good!"
How do you as a Director assist your staff at reaching their goals?
"Next week we will be 3 years old and every half a year we all get together and talk about the goals we have set throughout the year and what they have achieved since being in the business. We find it's the best way of being able to support our team because we all know each other's targets. If I can help steer them towards their goal outside of work, then work will be a happier place and I support their progression in all aspects of their life instead of just expecting them to make money.
Also, no matter what level my staff are they are all paired with a mentor within the company at different levels. They are not necessarily a manager or a director, we do this so that they can feel more comfortable about talking and asking for help. I really believe that we are one of the most open and collaborative recruitment companies and every there will literally be helping each other. Every person starts and passes their knowledge to the next person."
Why do you think promoting wellness in your office is so important?
"In January we came up with an idea to motivate and inspire the team to become more active. I personally have run 469K since January, I run to and from London Bridge station and to the gym every day. I feel healthier than I have ever felt, there is absolutely a direct link as everyone has more energy and been more productive than ever before. We have had our best 1st quarter and best 2nd quarter ever, so I definitely think that wellness being is interlinked into working life.
As a business owner I have stress every single day of my life that no one else could ever understand if they weren't in that position themselves. A way for me to let steam off is to put my headphones in and just go for a run, go to the gym or sit in the sauna. It's my way of clearing my mind but everyone is different, I just know that it works for me and has worked wonders for specific members of the team.
So, this is why we wanted to support CALM, it reflects our company culture and in a social media obsessed world we also want to spread the message to men that it is okay to talk!"
This article was written and originally posted by Madison Warner.