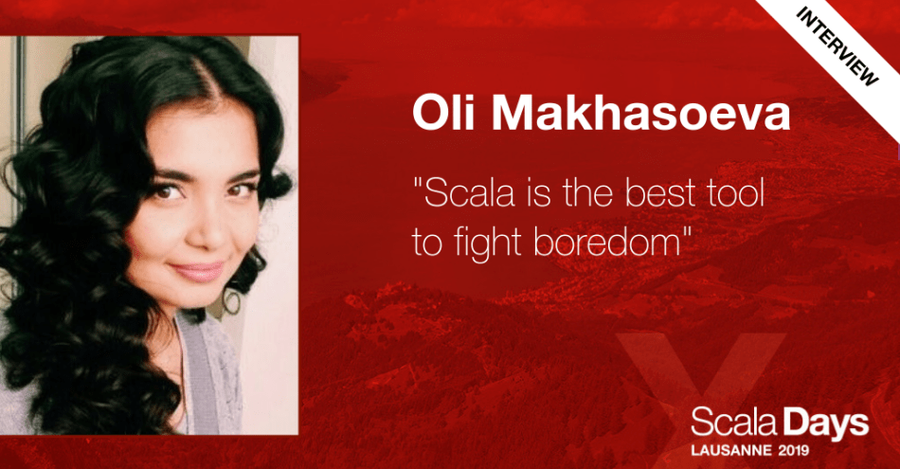 We love hearing about the success of Engineers in the community!
Oli Makhasoeva, Solutions Architect at 47 Degrees is the founder of Fun(c) meet-up, creator of Scala Love and will be speaking at Scala Days next week. Want to know her favourite Scala Days memory? Check out her interview here!
Looking to hear more from Oli? We caught up with Oli back in April, here is our video interview with her!
'A Scala Software Engineer specializing in developing high-load backend platforms, Oli Makhasoeva has recently shifted gears and joined 47 Degrees as a Solutions Architect where she is working on a variety of different projects, improving client experience with Scala and Functional Programming (FP). She is the founder and co-organizer of the popular FP Meetup, "Fun(c)" that draws tech experts from around the world for speaking engagements and is a host of the Russian Scala podcast, "Scalalaz".
In advance of her Scala Days Lausanne talk Develop seamless web services with Mu, we spoke to Oli about her journey from attending her first Scala Days conference to speaking at Scala Days Lausanne in June 2019 and her upcoming talk.
What is your most favorite Scala Days story or memory?
I attended Scala Days 2018 in New York as a podcaster working at Scalalaz.ru. It was quite fun to write an email asking if organizers were interested in having me and then I did a review the conference in one of the podcast episodes. I had an awesome time at the conference, and it inspired me, even more, to continue to do podcasting.
What's your background and what does your current role involve?
Currently, I am a Solutions Architect at 47 Degrees. We are a consulting agency specializing in Scala and Functional Programming. One of the best parts of my job is meeting and working with clients, helping them solve their problems, delivering clean FP code and teaching some Scala tricks!
What's the biggest highlight of your career so far?
One of the biggest highlights of my career is hosting Scala Love podcast. We often focus so much on the stressful and negative things that are taking place in our community, forgetting the positive and beautiful things we have.
I am certain that if not our welcoming and friendly community, I wouldn't be able to start my podcast. I owe it to you, people! This year we are celebrating the 10th anniversary, and I want to send love to everyone involved in the Scala community! Thank you to all the contributors, maintainers, event organizers, mentors, volunteers, speakers, and attendees, for making Scala better!
Why did you choose Scala and what kind of problems does it solve for you?
The best tool to fight boredom. I am addicted to learning and I keep learning with Scala every day.
What is the biggest challenge Scala developers are facing today?
I'd love to see more diversity in open-source projects, blogging, conference speaking, podcasting, etc.
What can help address this challenge?
If you are an experienced developer, please help others and become a mentor for someone from an underrepresented community and spread the Scala love.
Who should attend your talk at Scala Days and why?
I am giving a talk about a purely functional library Mu, and I'm very excited about it! I've seen it working in production in our clients' projects and it's a product of collaboration of many people who are passionate about what they do. It will be especially interesting for those who are considering moving to microservices and looking for a painless way to build it.
Whom would you like to connect with at the conference?
Anything else you would like to add?