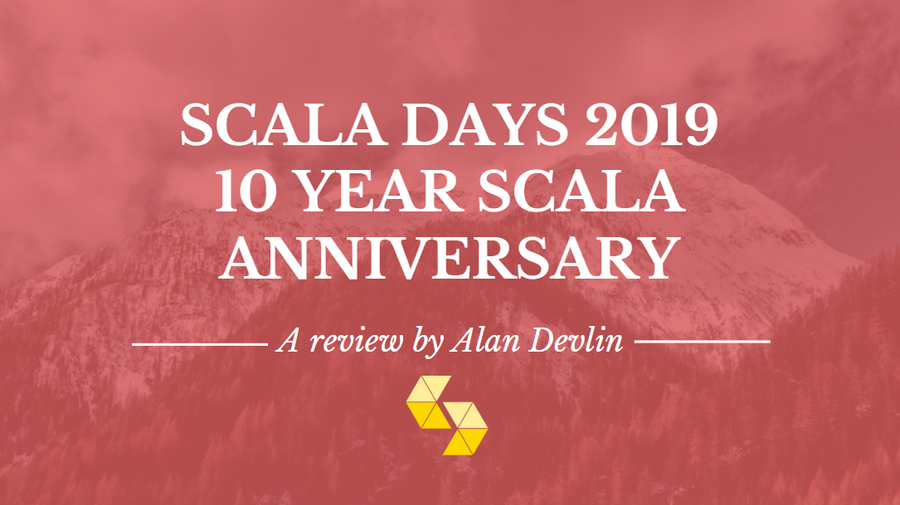 The 10 Year Celebration of Scala at Scala Days might be over but we are still loving hearing about how much everyone enjoyed the conference!
One of our Scala Days competition winners, Senior Software Engineer, Alan Devlin was reminded how much he loved learning about Scala. What were his favourite talks? Let's find out.
'Recently, I had the immense privilege to attend the ScalaDays 2019 conference in Lausanne Switzerland. ScalaDays is a yearly conference for the programming language Scala. This year was its 10th anniversary. The host city, Lausanne is the home of the EPFL which developed and maintains the Scala language. You could say that Lausanne is the home of Scala. And it is a beautiful home. Nestled among wildflower meadows, lake Geneva and noble snow-capped mountains, it is the most beautiful town I ever saw. I was reminded of how I fell in love with Scala's beauty and elegance. Seeing Lausanne, it seemed to me inevitable.
For the experience, I must thank Signify Technology, who paid for my ticket! I won a competition for a blog post on functional programming with ZIO — so also thanks to the maintainers of ZIO!
The conference itself was part technological and part a coming of age for Scala. There were many talks on improving the Scala community, with diversity centre stage. I was proud to be a teacher at Scala-Bridge this year — a free Scala course for people from under-represented groups in tech. It was talked about more than once in the conference. It is taking centre stage.
This brings me to my favourite talk of the conference — by Scala-Bridge founder Kelley Robinson. It's recommended viewing for anyone in tech. Kelley talked about how to communicate with your peers, how to act in tech, how to be a decent person in a difficult field. In my personal experience, these kinds of skills are more important than technical skills. My personal take on it, tech is a tough field to be in. It's competitive and toxicity is all too common. It doesn't have to be that way. I'm proud that Scala-lang is taking this seriously.
The next best talk — by Scala-lang Founder Martin Odersky — was on Scala 3. It was Odersky at his best — it certainly got me and others excited about Scala 3! Many of the new features reflect the shift towards functional programming in the industry.
Other highlights include several community-led developments on Scala tooling. I was lucky enough to meet the maintainers of metals- which allows me to write Scala with full-featured completion and intelligent features in Vim. I also had a near private seminar with Jon Pretty on Fury — his new game-changing build tool. I had the maintainer of coursier show me how to install it on my machine!
There were many other amazing talks — and they will all be published on Youtube. Please check them out!'
This article was written by Alan Devlin, winner of the Signify Technology Scala Days competition.