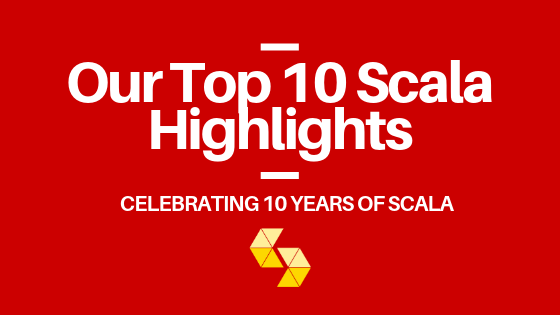 To be part of celebrating 10 years of Scala at Scala Days is an incredible achievement for us and we are thrilled to be part of this passionate community. The journey we have been on is all down to the support of those within the Scala community which is why we always want to give back however we can.
Since it's 10 years of Scala we decided to reflect on our own top 10 Scala highlights. The Signify team are grateful for every memory we have made with the community but unfortunately, you'd be reading this for a while if we listed them all so here it is narrowed down...
1. Meeting Martin Odersky
How could we not include this in our top highlights?
The creator of Scala, Martin Odersky, is a bit of a programming hero to us so when we spotted him at Scala Days Copenhagen, of course, we had to grab a photo opportunity (we have since done this at every conference we have seen him - we are big fans!). Without Martin Odersky creating Scala then we wouldn't have the memories we've made!
Scala Days Berlin 2018
2. Sponsoring and attending our first Scala Days
We love attending the Scala Days conferences and Signify are lucky enough to have sponsored and been part of Scala Days since 2017. Our very first Scala Days event was in Copenhagen and it's one we will not forget. The team ran a competition to see who could complete a Rubix cube in the fastest amount of time, with the final head to head being on the main stage in front of the whole conference. It was an unbelievable experience and gave us the chance to meet so many new faces and build on great friendships which we still have to this day.
3. Travelling globally to conferences
Sponsoring the amazing conferences has allowed us to visit cities which we may not have had the opportunity to do so before, from Berlin to New York for many of our team this was our first time seeing them and to explore them after the buzz of an exciting conference is awesome. Our bucket list of countries is quickly being ticked off and there are many more to come!
Scala Days Berlin 2018
4. Organising our monthly Scala in the City Meet-up
Our monthly meet-up is a small way we try to give back to the community by creating an environment where engineers can attend to network, learn and relax! Scala in the City has been running since February 2018 and with 15 successful events and many more to come, we are still enjoying seeing new faces attend as well as our regular friends who come along. Speakers such as Jon Pretty and Pawel Szulc have graced the Scala in the City stage and we've had some really incredible hosts including Sky, Monzo and ITV which are all national brands.
Soon to announce our first event, we have launched Scala in the City LA so stay posted for this!
Sign up to Scala in the City London here.
Sign up to Scala in the City LA here.
5. Building friendships within the community
One of our favourite parts about working in recruitment, attending conferences and organising our meet-up is the relationships we create off the back of them. Many of our consultants have built strong friendships with engineers they have previously placed or met at an event and now subsequently keep in contact with regularly.
We really love meeting you all and the support of the community has allowed us to progress as a company.
Scala Exchange 2018
6. Helping engineers secure their dream roles
The Signify team are passionate about our own roles of helping secure engineers their dream roles whether that's contract or permanent, in Spain or New York we aim to find the best opportunities possible to suit each individual candidate.
One success story is when our Principal Consultant Mitch reached out to a developer who spoke little English and was struggling to find a suitable opportunity due to this, Mitch used every avenue he could to communicate (lots of Google translate!) with this candidate and as a result find him his dream role in a tech company he was excited about. This is why we love helping the community!
7. Organising our own Women in Tech event
This may be less Scala related but it is definitely something we are proud to have achieved. Women in technology is a big initiative currently and empowering women in the workplace which is why we wanted to aim our efforts at creating an event to focus on this. Through a Keynote Speaker and Panel Discussion, we welcomed over 100 to attend and listen to the stories of women who currently work in the technology industry at different positions from Junior to Senior, it was amazing to hear so many various opinions and journeys of how they got to where they are.
We can't wait to hold more!
Making Your Own Path: London Women in Tech Share Their Journey
8. Sending over 23 people to global conferences
Throughout the year when we are sponsoring attending conferences, it wouldn't be the same if we were not able to provide the same experience to our candidates. Therefore, by running competitions, we have currently given over 23 engineers the opportunity to attend the biggest functional programming and Scala conferences events such as
Scala days
,
Lambda World
and
Scala eXchange
.
Scala Italy 2018.
9. Community Conference Dinners
The conferences are awesome but what else do we enjoy about them? The community conference dinners! Involving the speakers, sponsors and organisers we love attending and having a round-up of the successful event. One of our favourites was at Lambda World 2018 which was held in a stunning Spanish restaurant and we were treated to lots of entertainment and food.
10. The whole journey that Scala has given us the opportunity to be on!
We can't list our top highlights without mentioning the amazing journey we have been on due to the Scala community. The support we have had since the start of Signify has now allowed us to be awarded 'Best New Agency' along with other awards, open an office in Los Angeles, USA and so much more, the team are so grateful.
The Recruiter Awards 2019.
Let's celebrate 10 Years of Scala!