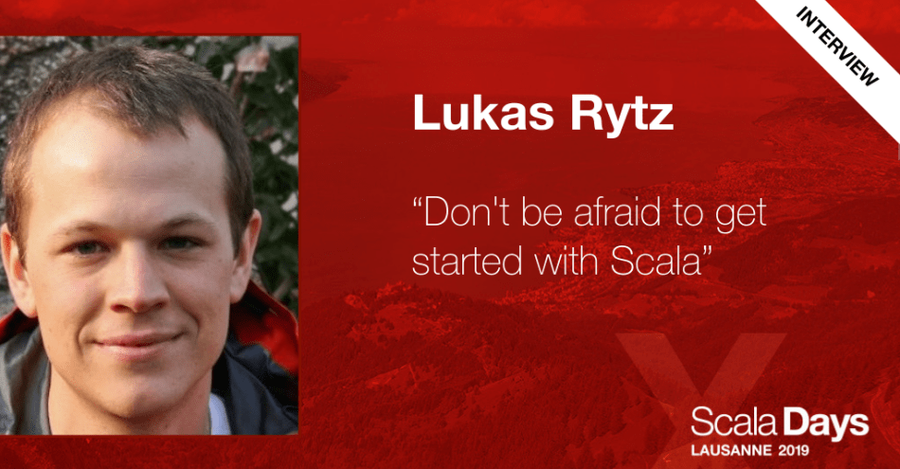 The Signify team are brimming with excitement that Scala Days is nearly here!
Have you planned all the talks you will be attending? Make sure one of them is Lukas Rytz's talk as the Lightbend engineer has great knowledge to share. Scala Days caught up with Lukas to find out all about his background and highlights so far.
'Are you excited about Scala 3.0? We are! That's why we cannot wait for the talk "How are we going to migrate to Scala 3.0, aka Dotty?" by Lukas Rytz, Software Engineer at Lightbend working on the Scala compiler.
This talk focuses on the path that will lead us to Scala 3.0, including a recap of the most important changes in Scala 3.0, an overview of incompatibilities and possible complications, and ways to address these challenges. We will also hear about the Scala 2.14 roadmap as a way to transition to Scala 3.0.
In advance of this highly anticipated talk at Scala Days Lausanne, we spoke to Lukas about his journey of learning and exploring Scala, the biggest challenges that developers starting with Scala face and why one should not be afraid to get started.
What is your most favorite Scala Days story or memory?
I was a Ph.D. student at Martin's lab (
Editor: Martin Odersky, Scala Creator
) when Toni Cunei organized the first Scala Days conference. I remember us all packing the swag bags in the conference room. The conference itself was a blast, it was the first big get-together of the Scala community, and it had a unique vibe. It was amazing to see how Scala Days grew over the years, and I'm really excited that it's finally back at École polytechnique fédérale de Lausanne (EPFL).
What's your background and what does your current role involve?
I did my Ph.D. in Martin's lab and already enjoyed working on the language and the compiler back then. One small addition to the language that grew on my desk was named and default arguments, released in Scala 2.8. After my Ph.D. I was very lucky to get the opportunity to join Typesafe, the company now known as Lightbend, to work in the Scala team. This team maintains the Scala compiler, the standard library, and is involved in shaping the evolution of the language.
What's the biggest highlight of your career so far?
Getting the chance to work in such a friendly and collaborative team is really great! I love the flexibility of working remote, but meeting the team and synching on higher-level goals is always a highlight. It's also a big privilege to be able to work with so many brilliant external contributors that share their time and expertise for the good of the project – I'm really thankful, and I'm learning something new every day.
Why did you choose Scala and what kind of problems does it solve for you?
I was introduced to Scala during my studies at EPFL and loved it from the beginning. It's the unique mix of simplicity, elegance, and expressiveness, so really its scalability that is so attractive. Being able to work on the Scala language and its compiler while using it every day at the same time is really fulfilling.
What is the most important challenge Scala developers are facing today?
I think the breath of the Scala ecosystem can be quite daunting at times. There are multiple islands of libraries and technologies that can be used to implement a system. There seems to be so much to learn before you can even get started! Also, the language itself offers a lot of possibilities to organize your source code. This is one of Scala's strengths – Scala is intended to be a scalable language – but it can also stand in the way of going for a pragmatic solution for the problem at hand.
What is one thing that could address this challenge?
Don't be afraid to get started! Scala is a beautiful language from the beginning, it has a lot of non-complex and nice features that are beneficial from day one. Li Haoyi has written
a wonderful blog post
"
Strategic Scala Style: Principle of Least Power
" that I recommend to every Scala programmer – beginner to expert.
Who should attend your talk at Scala Days and why?
Scala programmers who are curious, excited or maybe even a little worried about the evolution of the language to 3.0 and what that transition will mean for them. The talk will be on a practical level and really focus on the migration path that will lead to Scala 3.0.
Whom would you like to connect with at the conference?
I saw on Twitter that NthPortal – I don't even know her real name – will be coming to Scala Days Lausanne:
She is a very active, competent and super friendly contributor since more than a year, and I'm really looking forward to finally meet her in person.
Anything else you'd like to mention?
Do they have good coffee at EPFL nowadays!?!
Don't miss Lukas Rytz and his talk "How are we going to migrate to Scala 3.0, aka Dotty?" at Scala Days Lausanne on June 12th. Book your ticket now. '
This interview was conducted by and originally posted by Scala Days.