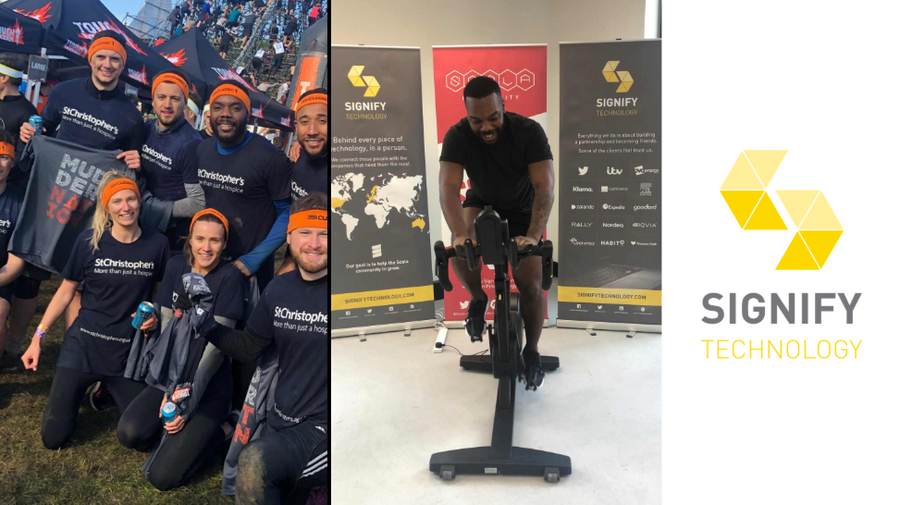 At Signify we love technology and getting involved in all things Scala but charity is close to our hearts.
Unfortunately, throughout our lives, we all will be affected by something that deserves a charitable cause therefore as a team we try to support in any way we can. From running races dressed as Santa to surging underwater, we've done it all and we can't wait for more to come!
We are very proud of our journey so far and the support from everyone around us, therefore, it is imperative to ensure we make the most of this position and create awareness for the charities we are passionate about.
What has been our charity journey so far?
You can check out just a few of the charities we have supported so far on our Charity page.
Here are a few of our highlights...
Tough Mudder 2019
On 4th May the team braced the cold and rain to tackle Tough Mudder 2019, we can promise it wasn't an easy task but we conquered it and are very proud to say we raised over £3,000 for St.Christophers Hospice.
You can find out a bit more about St.Christophers Hospice here.
Comic Relief Cycle Challenge
To raise further awareness for the amazing efforts of The Comic Relief initiative the team took part in a continuous cycle challenge. Throughout the day we had to take it in turns to hop on and hop off the static bike to cycle a total of 125 miles, the team worked hard together to make sure that we had the challenged completed by the end of the day. It was an incredible team bonding activity and we even got a tweet from Comic Relief for our efforts!
Find out more about the efforts of Comic Relief here.
Sprinting Santas in the City
Signify sprinted through the city in aid of the Lord Mayor's Appeal, the 5k fun run definitely came with its difficulties and we can't say that running along in Santa gear was the easiest but it was a worthwhile event for a very deserving cause.
Find out more about the Lord Mayor's Appeal here.
We really do love getting involved in any way we can and giving back to the community. Is there an initiative or charity which is close to your heart? Let us know and we would love to see how we could help.