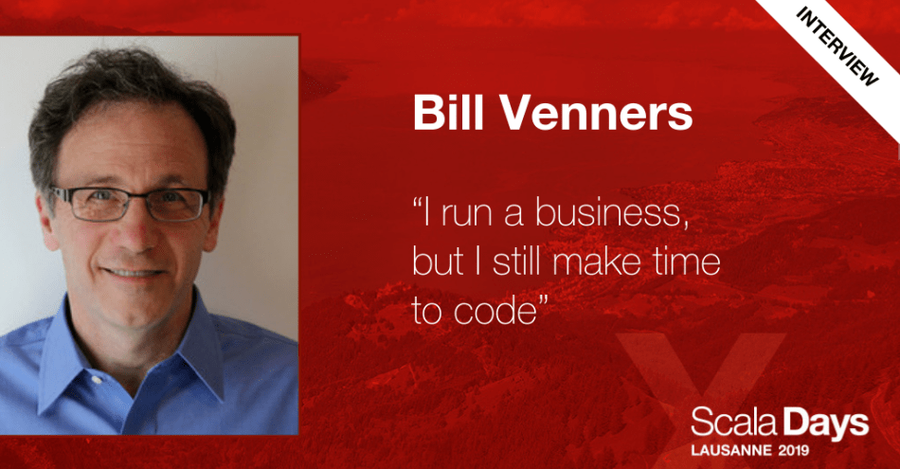 We all know the amazing Bill Venners, who you will have regularly seen at Scala Days and we are glad that he will be there this year!
Scala Days takes the chance to ask Bill all the questions we want to ask, why did he choose Scala? And what problems does it solve for him?
'Bill Venners needs no introduction. A regular speaker at Scala Days, Bill, together with Martin Odersky and Lex Spoon, co-authored the book "Programming in Scala". He also leads the open source projects for the ScalaTest testing library and the Scalactic library for functional, object-oriented programming. Bill is the president of Artima, Inc. that provides Scala consulting, as well as organizes training, publishes books, and offers Scala programming tools.
At Scala Days Lausanne, Bill will talk about types and formalize the specification of semantic contracts as statements of predicate logic. In advance of Bill's talk "In Types We Trust", we spoke to Bill about his favorite memory from Scala Days, why he chose Scala and his Scala journey, and why at Scala Days he's interested in meeting people from all walks of life.
What is your most favorite Scala Days story or memory?
I have many happy memories from previous Scala Days conferences. For some reason what popped into my mind is the memory when some guy I didn't recognize came up to me and started talking. Sometimes people remember me and I don't remember them, and I was getting the vibe this one one of those situations. I didn't want to let on to this person that I didn't remember him, because he seemed to clearly know who I was, so I didn't want to chance looking down at his badge. Finally, I glanced down at his badge and realized it was someone I had been interacting with online but hadn't met in person yet. "Oh, I said, you're
Jon Pretty
!" (
Editor: Jon Pretty is a long-time Scala programmer, Scala Center Advisory Board chair, Fury, Magnolia and Contextual developer, and (link: https://scala.world/) scala.world organizer
)
Can you tell us a little bit more about your Scala journey?
I've been a programmer all of my career. My path was primarily C, C++, Java, and Scala, with a few others thrown in. Now I run a business, so do a lot of management, but I still make sure to find time to code.
What's the biggest highlight of your career so far?
The Scala part.
Why did you choose Scala and what kind of problems does it solve for you?
Back in 2006, I was itching for a different language than Java, which I'd been using for 10 years, but didn't want to give up static typing. Scala was the right fit for me back then. My interest in FP grew as I gained more experience with Scala.
What is the most important challenge Scala developers are facing today?
Probably how to get from here (Scala 2) to where we want to go (Scala 3) in a way that won't split the community.
What is one thing that could address this challenge?
There are many things that we are doing to try and make the transition smooth.
Who should attend your talk at Scala Days and why?
People who are interested in how to improve software quality.
Whom would you like to connect with at the conference?
People from all walks of life. I always learn a lot from randomly meeting people and having random conversations.
Don't miss Bill Venners and his talk "In Types We Trust" at Scala Days Lausanne on June 12th.'