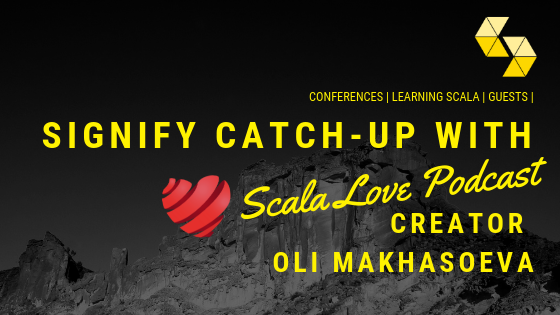 If you're a Scala Programmer then you've probably heard of the Scala Love podcast and if you haven't had the chance to check it out yet, then you need to make sure you do!
Launched in February 2019 by the awesome Oli Makhasoeva, Scala Love is a podcast for engineers of all levels and even those who are not so interested in engineering, we can bet will enjoy it. With an array of exciting guests who have been interviewed on the podcast so far such as John De Goes and Valentin Kasas, Scala Love discusses community-related topics and personal experiences, so you can be sure that you'll take something positive away from each episode.
With all the hype around Scala Love, we wanted to catch up with the creator herself and luckily Oli was more than happy to chat to us!
Check out our Q&A with Oli Makhasoeva where we asked all the questions on our minds. Don't forget to subscribe to Scala Love.
Signify Catch up with Oli Makhasoeva
2019 Conferences
Northeast Scala Symposium 2019, catch up on all the talks here.
JPoint 2019, International Java conference.
Scala Days 10 Year Scala Anniversary Conference 2019.
Oli Makhasoeva will also be speaking at Scala in the City this August, subscribe to our Meetup page to stay posted.
Stay updated with Oli at @Oli_kitty and Scala Love podcast at @scala_love
Are there any other programmers you would love us to interview? Let us know below!