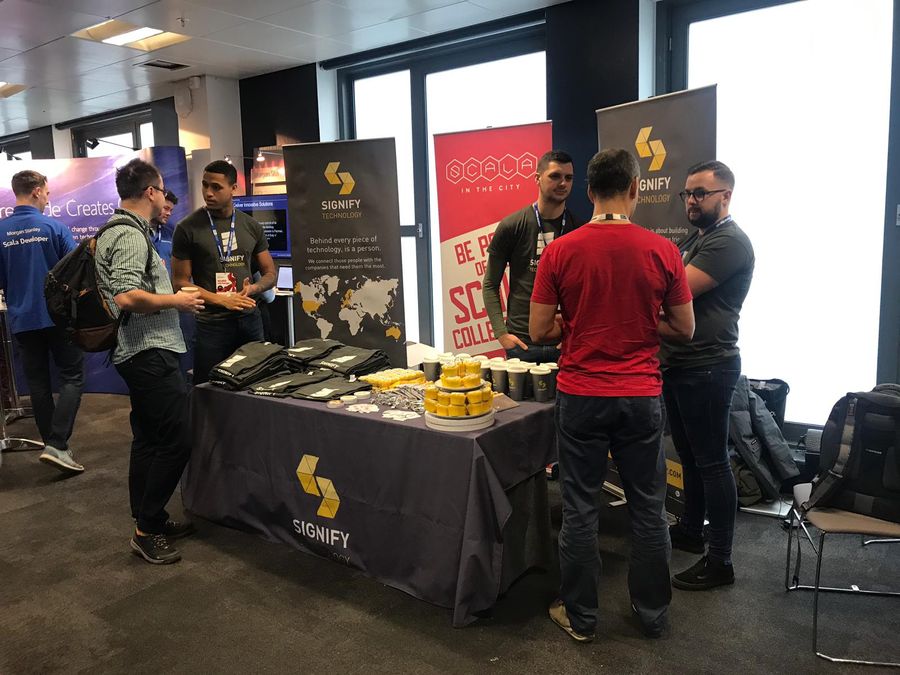 Signify have had an incredible year of sponsoring conferences from Scala Days to Lambda World and now ending the year with Europe's largest gathering of Scala engineers, Scala eXchange.
We are so proud to have sponsored 13 Functional Programming conferences and events in 2018. Being part of the Scala community is paramount to us, therefore, to know we are giving back to the community by helping each conference grow in order to assist with engineers learning is one of our biggest successes.
We are looking forward to 2019 where you will no doubt see our faces in many more countries!
Did you attend Scala Exchange?
Held on 13th and 14th of December this conference is well anticipated and we can certainly say we were counting down the days to set up our stand. So on the first day, we were ready and raring to go with our Signify swag, T-shirts, handy keyring bottle openers, travel mugs for your morning coffee run and more.
It was a great excitement to present our Signify cupcakes featuring a QR code which when scanned brought up our 'A Year of Scala in the City' video. We are super proud of Scala in the City and thrilled that we organised 10 meet-ups this year and presented an awesome array of speakers including John De Goes, Jon Pretty and Paweł Szulc.
We can't wait to go in 2019 bringing you more inspiring Scala content, have a look what 2018 had to offer on our YouTube channel, don't forget to sign up to our Meetup page to stay in the know about new Scala in the City dates here.
If you didn't manage to grab a cupcake or you just couldn't resist the temptation to eat it there and then, check out the video featured on the QR code below.
We are so grateful for those who came along to our stand and chatted to us. One of the most rewarding aspects for us is getting to know the Scala community and making friends so no matter whether we have chatted to you once or every day make sure that if you ever see us head over and say hey, you have the plus of gaining some cool free swag too!
One person who did come over and who we have been lucky to meet at many conferences was Senior Software Engineer and active community contributor Igal Tabachnik. Igal has just released 'Category Theory for Programmers' by Bartosz Milewski and edited by Igal Tabachnik which he very kindly brought along to Scala eXchange to give out a few exclusive copies as well as letting Signify run a competition to win an edition, the lucky winner of this was Senior Software Developer,
Tim Steinbach
!
Being located in London Signify wanted to make the most of this unbelievable conference so we filmed a few highlights for you to enjoy. If you are thinking about heading along next year or you just want to reminisce then view our favourite moments from Scala eXchange 2018 and we look forward to seeing you at many more conferences.
As you may know, Signify Technology is the only recruitment agency to specialise solely on finding Scala engineers the best opportunities in some of the most incredible tech companies globally. If you're a Scala engineer looking for a new opportunity or you are looking to build your team of Developers just give us a shout our team will be the best placed to help you.