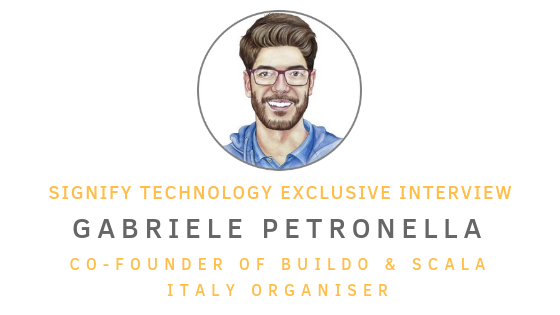 We love sharing exclusive Q&A's with you! This time we are thrilled to have had the chance to catch up with Scala Italy Organiser and Co-Founder of buildo, Gabriele Petronella. Gabriele studied Computer Science at the University of Illinois at Chicago and from there has become a Key member of the Scala and Functional Programming community. Check out his interview below.
What was it that gained your interest in engineering?
I've always liked computers since I was a little kid.
My father had one at home and I would play with it on any given occasion. Since computers used to get stuck often (they still do!), I found myself spending a lot of time stubbornly trying to make my father's computer work. It turned out that I really enjoy solving hard problems and I suppose that had an impact on me wanting to become an engineer. It definitely requires a lot of stubbornness!
What do you feel has been your best learning resource etc. conferences, forums, courses? How have they helped you improve your knowledge?
I find blogs and conferences are great for piquing my interest in a new subject or to give me new perspectives over things I was already familiar with. Then reading technical books and trying to apply the concepts in practice is how I usually get something to stick in my head. Stubbornness helps too, I think.
You are Co-Founder of buildo, what encouraged you to start up this company?
In 2012 I moved to Chicago to study at UIC, where I've got my MSc in Computer Science. There I had the luck to share an apartment with other Italian students, who then became my friends and business partners. In Chicago, we occasionally did some freelance jobs and that's when we started to realize that we could work together on a more stable basis.
When we completed our studies, despite having received many job offers in the US, none of us was eager neither to stay in the US nor to get employed in a tech company. We had the feeling we could make something of our own back in Italy, and so we did!
You use Scala for your backend development, what was the decision on using Scala for this?
Immediately after founding buildo, we got our first client. The project we had to deliver would operate in the medical sector, in a regulated and fairly critical environment.
For this reason, we wanted the confidence of a statically typed language and we looked around for options. Some of us had just taken the first edition of the Scala MOOC on Coursera, so we decided to give Scala a try. We've never looked back ever since!
Was there any challenges in particular which you came across and you can look back at and say you have learnt from?
I think the hardest challenge is a sort of "meta-challenge": how do you put yourself in a position from which you can maximize learning?
We often say that we learn from mistakes, but this does not happen automatically. It's of paramount importance to actively keep your company able to receive feedback, learn from them and improve.
You are also organiser of Scala Italy, which is an amazing conference and this year marked the fourth edition, what is it you enjoy most about organising this conference?
I love going to conferences because it's a wonderful opportunity to meet new people in person and to shake hands with people you only talked to on Twitter, GitHub, Slack, etc. That feeling of putting a face to a name and interacting with your peers in a friendly and relaxed environment is priceless.
This is what Scala Italy is about: creating a bridge between the Italian Scala community and the rest of the world so that we can meet and learn from each other.
Are there any other conferences which you enjoy attending? Which are they?
I've thoroughly enjoyed every conference I've ever been to. It may sound corny, but it's true!
That said, I think two conferences (other than Scala Italy, of course) stand out: Scala World and Lambda World. Scala World does an amazing job at putting together what is really not just a conference, but a short break from the busy every-day life, which brings together not only speaker and attendees, but also their significant ones and families.
Lambda World does an equally incredible job in bringing together people from many different tech communities, unified by their love for functional programming. It's a really refreshing experience to be part of such a diverse community, under many aspects.
Do you have a favourite speaker in the Scala community? Why are they your favourite?
My favorite talks are the ones that cover technical subjects by telling you an engaging story. For this reason, Pawel Szluc is probably my favorite speaker: he has an incredible amount of energy on stage and his talks are at the same time fun, engaging and highly technical.
What do you see for the future of buildo? How would you like it to progress?
There's no grand plan for buildo and we're happy this way: buildo exists to deliver high-quality engineering work while having a positive impact on the people that work at and with the company. We plan to keep doing that, and it's going to be fun!
What advice would you give to somewhere beginning a career in engineering?
Don't settle for any job that makes you sick when you go to work in the morning. As software engineers, we have the incredible privilege of being able to choose our job. It's a rare luck, and we should not give it for granted.