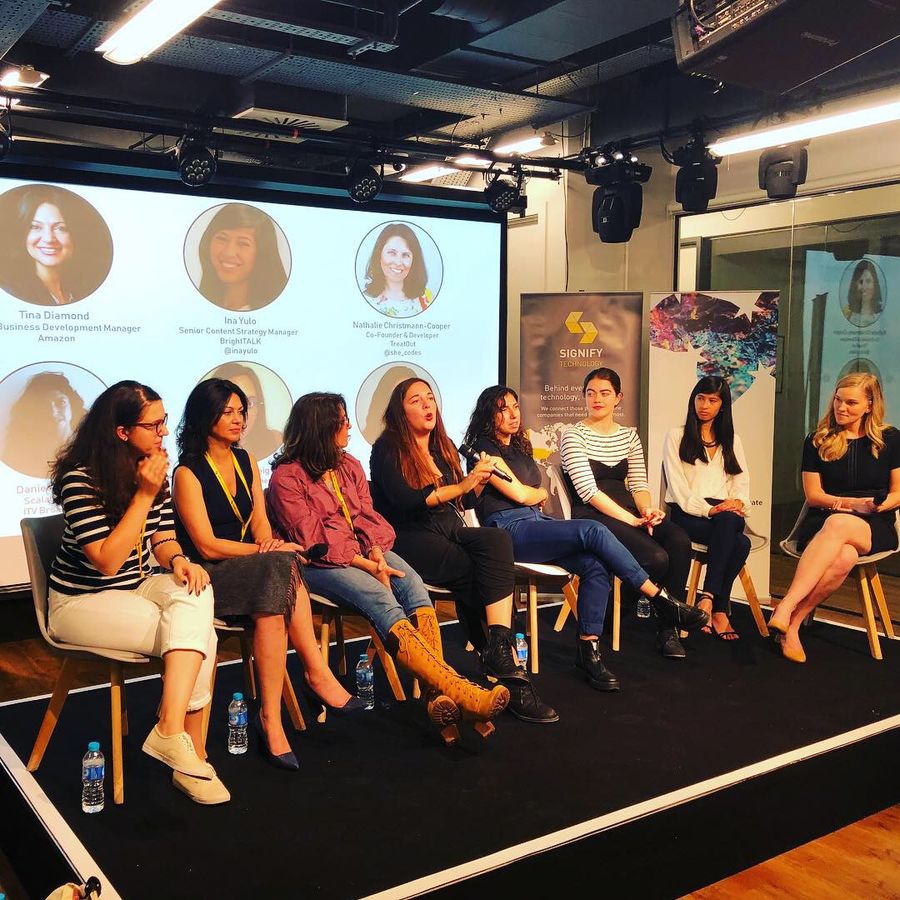 Thank you so much to everyone who attended our Women in Tech event in partnership with BrightTALK on Tuesday. This was our first event Women in Tech event so we were really excited about it and we are proud to say that we are part of trying to make a positive impact on the gender gap in the technology industry.
The aim of our event was to bring further awareness to the stories of women within the tech industry, the different roles it can include and their journey. The event began with our Keynote speaker, Software Engineering Manager at OVO Energy, Emily Rigby who told us about her journey growing up with tech as part of her upbringing and how that then turned into a passion for her to pursue a career in and the challenges as well as achievements she has come across.
This was then followed by our panel of seven inspirational women, Tina Diamond, Ina Yulo, Nathalie Christmann-Cooper, Danielle Gourgey, Phoebe Greig, Maria Livia Chiorean and Emily Rigby who spoke on their experiences, advice and lessons learned from working within the tech industry.
We are thrilled with the incredible feedback from the evening and it's great to hear that so many left feeling inspired and excited about their future. If you didn't get the chance to come along then don't worry as we have it all for you to catch up on below, have a watch and stay posted as we are looking forward to holding more Women in Tech events.
Overview
Keynote Speaker: Emily Rigby
Emily Rigby
Emily Rigby is a Software Engineering Manager at OVO Energy for 3 teams looking after solutions to problems affecting multiple teams at OVO, such as authentication, customer comms and gathering reporting data. She came through a fairly traditional route to programming, doing a degree in Computer Science followed by a software engineering job at Bloomberg before exploring a career in management. Her background is in back-end systems using C++ and Python, but now builds tools to help her teams in a wide array of languages. Throughout this, she has been in the minority of women among her peers and is dedicated to working to change that for the future through mentoring and making her voice heard.
Panel Discussion
Tina Diamond
Tina Diamond is a Sr Business Development Leader at Amazon Web Services. Bringing 20+ years experience across 7 Start-Ups from Silicon Valley to London, as well as a Post Graduate Degree in Organisational Leadership from Oxford University. Holding leadership positions as a managing director, executive, co-founder, NED and Strategic Advisor she is recognised as an industry leader, invited to present at global technology conferences events. Tina is committed to creating awareness and industry efforts at improving the gender balance in technology. Chosen as a role model and mentor, guiding executives as well as consultants (both men and women), teaching a process that takes everyday life situations, to simulate and demonstrate how to engage those dynamics more effectively.
Also increasing awareness with younger girls interested in STEM subjects, creating an excitement and momentum to further explore a range of careers in the technology and science sectors, to become the change they want to see.
Ina Yulo
Ina is the global manager for BrightTALK's FinTech and Financial Services community which she launched herself and now has over 300,000 subscribers. Despite not having a technology or Financial Services background, has been on the Women in FinTech Power List for two years running and is a mentor for a number of start-up accelerators and the European Women in Payments Network.
She has gone down the road of questioning her position in an industry that she is seemingly not a fit for on paper, and has come back out the other side with key learnings that will help others in their professional and personal lives.
Nathalie Christmann-Cooper
Nathalie is an experienced and passionate designer, who learnt to code in her 40s to make the transition from graphic designer to an award-winning web developer. After dedicating 16 years of a career break to raising a family, Nathalie is loving her new role as a Full Stack Developer at Skills Matter, London.
Nathalie co-founded TreatOut, a greenfield food tech startup project which is tackling the issues faced when trying to dine out with food allergies and intolerances. She was accepted onto the 5th cohort of Google Campus for Mums Startup Programme at Campus London in October 2015 and was named one of the 15 small business owners joining the FSB's national taskforce established to promote women in enterprise in July 2016.
Danielle Gourgey
Danielle began her career in Marketing however always had a strong interest in coding. With this interest prominent in her mind she then went onto study at General Assembly where she became qualified and started her career in coding with front-end technologies. It became clear that her preference was in back-end engineering and within her role she was able to transfer across to using Functional Programming, mainly Scala.
Dedicated to succeeding in each of her roles Danielle has a great career switch journey which will be inspiring to those who may feel lost with where they are currently at in their role.
Phoebe Greig
Phoebe was a late starter to the tech scene. Having had a career in finance, it was only when she started teaching herself javascript, that she realised she had found her calling, and in 2015, she decided to take the plunge and change career. Phoebe joined the Net-A-Porter technology graduate scheme and a year later, she joined the BBC as a Software Engineer. She now builds cutting-edge tools for journalists. Where tools are built with accessibility in mind, to ensure that all people, regardless of their range of hearing, movement, sight, or cognitive ability can participate equally.
Phoebe is Co-Founder of Women Driven Development, an organisation that brings gender minorities, leaders and future leaders in tech together, to share knowledge, experiences and to create real connections, promoting sponsorship through hackathons, practical sessions and events. She is also Co-Director of Lesbians Who Tech, London, where she organises talks, conferences and events for LGBTQ+ women, non-binary people and allies in tech.
Maria Livia Chiorean
Maria started her career as a Software Developer at the Guardian in 2015, shortly after graduating with a degree in Computer Science at the University of Bucharest.
As part of The Guardian's graduate program, she was given opportunities in different areas of the business, contributing on various projects including the iOS app and the Content API. In the process, she has developed her technical skills, in particular around Scala and Functional Programming. Last year she gave her first talk at international Scala conferences. At the moment, Maria is working in the Editorial Tools team, developing software that makes quality journalism easy to create.
We hope you all enjoyed the evening and we want to thank you for your support and amazing feedback!