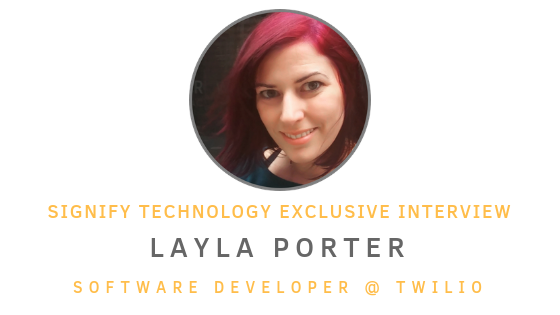 We are thrilled to have had the chance to speak to Developer Evangelist at Twilio, Layla Porter about her experiences in the tech industry. Layla's path wasn't originally set for the tech industry but after picking up coding through owning her own business she found a love for it and has made a great and successful career switch.
You gained your first role as a Web Developer in 2016, what was it that made you make the move into the tech industry?
I had been coding for about 10 years before I became a web developer full time. I started with Flash and ActionScript then progressed to a little iPhone App development. I then mostly did front-end design work in my free time. I started programming with C# and .NET in 2013 when I created, with much assistance from my partner, an online booking system for my Pilates Studio. I needed to improve my programming skills to enable me to maintain my booking system. I spent the time when I wasn't teaching Pilates studying.
In 2015, I could see that my business wasn't going to make it. I was inspired by the CodeNewbie podcast and thought "I could do that too". I then really began to dedicate most of my spare time, even when on holiday, to learning app development and making myself employable.
Was there a certain resource, role model or inspiration which you feel sparked your interest in Engineering and Developing?
I have always been interested in how things work and technology in general. My partner is a web developer and I would always nag him to show me what he was working on. I definitely have to thank the Microsoft Virtual Academy and FreeCodeCamp.org for giving me all the online resources a newb could possibly need.
Do you feel there have been any challenges for you as a woman in tech industry? How did you overcome these?
Apart from being asked to do the more design-y parts of a project, no, I have not faced any challenges in particular. I do think that, as the only woman in a team at times, I tried to be one of the lads at times and that may not have been the best approach. I don't think we, as women should have to try and fit in and lose our identity in the process.
Or, If you had a very positive experience can you tell us more about this? How was it positive?
I recently worked at a company that was great at trying to promote gender equality and a safe and mutually respectful environment for all. They actively tried to promote diversity and celebrate it within the company. It led to a great vibe throughout the company.
Do you feel there is anything we can do to close the gender gap in the tech industry?
This is a really difficult question with no clear answer. I run a local .NET meetup group and have tried different tactics to make it more inclusive. Instead of offering "beer and pizza" I say "food and drink" in an effort to make the event feel less like a "lads night out". I think a lot of it boils down to making welcoming and inclusive environments that don't play to a specific gender stereotype. For example, a staff area with a dart board, a ping-pong table and a general "sports-bar" vibe may not be a welcoming place to everyone, regardless of gender, nor a relaxing one.
I also feel many companies play to the "tech stereotype" they see in the media - geeky guys in a basement with no natural light - and place IT departments into the worst parts of the office. A bright and comfortable office makes a great work space for everyone, not just women.
Of course, everyone has their own part to play too. Everyone needs to make an effort to create a welcoming and non-threatening space. I also feel that people outside of tech have their part to play - I have been in offices where I have been "the weird girl that does the computer stuff" and left out of many social events because of assumptions made about "tech people".
I do, however, think the tech industry is moving in the right direction, with more and more women finding rewarding positions within the industry.
How do you keep up with the latest trends and updates in tech and programming?
Tech changes so quickly that it is a constant struggle to stay current. I have a subscription to a training video site which helps with my ongoing training. Although I hate to admit it, I think Twitter is actually a good place to stay up-to-date with your chosen technology.
Do you attend many conferences? If yes, what is your favourite? And why?
I hadn't been able to attend many conferences prior to working at Twilio. Either the cost was prohibitive or I wasn't able to get the time off work. I am enjoying attending conferences now and love attending sessions on stuff I have never heard of or tried before.
Lastly, what advice would you give to someone who is making the move to the tech industry from another industry?
Study your local market and see what technology stack is prevalent, this may be open vacancies or tech meetups. If there is already a community for a particular technology it will be that much easier for you to make the move.
Set yourself targets and goals but don't stress if life gets in the way sometimes. Even if you don't think you're ready to apply for a job, give it a go. The worst that will happen is you will get a no. But you will definitely learn something for your next interview, and you never know, you might be just what they were looking for!
---
At Signify we are very passionate about making a positive impact on the gender gap within the tech industry and we are really excited to be organisers of our own Women in Tech event which is taking place Tuesday 25th September. Stay posted for videos on the Keynote talk and panel discussion.
---
You can also read our last Q&A blog which was with Senior Consultant and Lambda World speaker Daniel Westheide, check it out here!