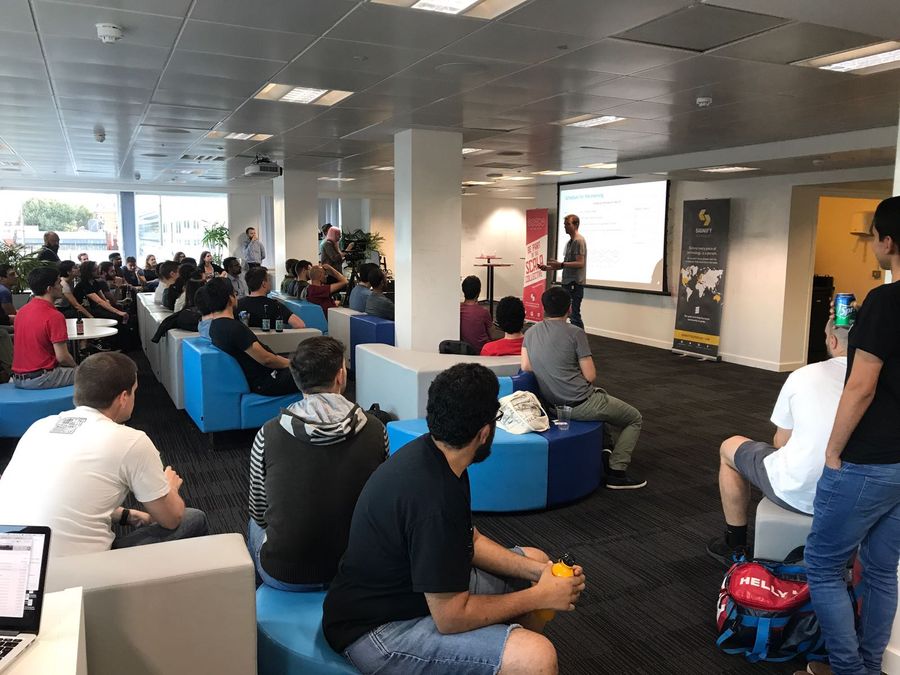 Thank you to everyone who attended the seventh Scala in the city last night, we really appreciate you guys giving up your evening to hear the talks and making the effort to come out to Hammersmith to see the amazing work Shazam are up to, we hope you enjoyed the event as much as we did.
We are working hard to create an event everyone can enjoy and hopefully learn something new at, your feedback is very important to us.
Our next event is on Thursday 20th of September, hosted by Babylon Health, we hope you can make it. Stay posted for more information on Meetup.com.
Thank you to Shazam for hosting, it was great to hear from Richard Sharp, Shazam CTO, as well as our two speakers, Matt Roberts and Joan Goyeau who gave awesome talks! We will be sharing the videos of the talks in the next few days so watch this space, in the meantime check out the slides from each presentation below.
Joan Goyeau - Functional Devops with Scala and Kubernetes
Matt Roberts - Implementing the Saga Pattern with Akka
If you think you might be interested in being a speaker or hosting one of our next meetups just give us a shout at info@signifytechnology.com.
Signify specialise in placing Functional Engineers into new roles, we have Scala roles across 17 Countries, check out the job role section on our website if you are considering a new contract or permanent role we may be able to help. Thank you from everyone at Signify/Scala in the City.
Organisers- @Signify_Tech Follow us- @Scalainthecity