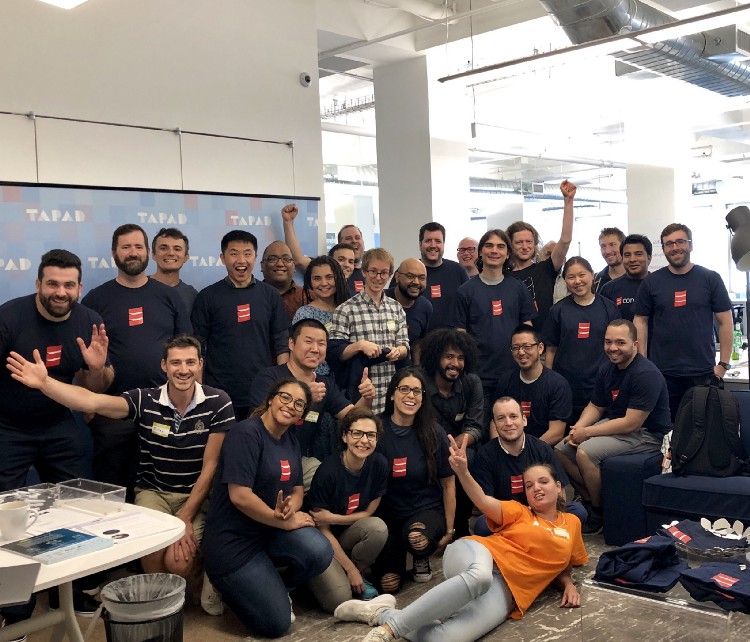 Image credit: Tapad Engineering
In July Tapad hosted a Scala Spree and with the hard work of Scala Center, Lightbend and Tapad it was an amazing spree. Check out what Tapad had to say after it all the fun came to an end!
'Pre-Spree NYC
Surprise visit by the creator of Scala, Martin Odersky
It all started with one tweet from Darja, the Scala Center community manager, then one share from a Tapad engineer in Oslo, kicking off a series of events: 60 e-mails across more than 15 people in 3 days. Darja was looking for a space to host the first NYC Scala Spree. Tapad was up to the challenge and within 7 days secured a space, publicized, and launched the event. It took the sheer will of the the Scala Center, Lightbend, and Tapad to bring it all together and we are happy to report, it was a success!

"Apparently, finding a space in NYC, during the workday was close to impossible." — Darja, Scala Center Community Manager
Tapad was excited to host but space in NYC is limited, especially during business hours. But, where there's a will there's a way! The Tapad talent team combined efforts and found ample office space our building to provide a venue to open source live.
With no time to waste Tapad, The Scala Center, and NYC Meetup Group went on a Scala Spree marketing blitz! The teams utilized Twitter, Facebook, LinkedIn, Emails, etc. and within 2 days had over 50 sign-ups and continued to pour in thereafter of course…
Markus, who is fittingly the Director of Developer Advocacy at LightBend, had a late conference call the Friday before Scala Spree. The extra effort ensured the contributors and maintainers were well fed, and hydrated, by ordering ample coffee and food.
Whew! Let's Spree…
SCALA SPREE NYC — 2018
The event took place on a Tuesday from 9am to 4pm at Tapad HQ. We were pleasantly surprised to see that people were excited enough to arrive early. The day started with bottomless coffee and pastries. Soon after, the 10 maintainers (Scala library authors) introduced their projects allowing participants to choose which team(s) they would join for the day.
Once Darja put on her organizer cap it was all smooth sailing.
It was great to see the maintainers being hands-on. They provided support to engineers of all levels, including Tapad interns. The experience was enjoyable for everyone, but don't take our word for it;
"Since I first started coding Scala when I lived in NJ, I was really excited to bring Scala Spree to the ny-scala community. Thanks to Tapad, Scala Center, and Lightbend we had a great turnout at this awesome event. Throughout the day, friendly Tapad folks were making sure that the event was welcoming and people were having fun. Dale @dwijnand and I came prepared with GitHub issues labeled "Help Wanted" and "Good First Issue", which gave contributors interested in sbt something to work on. Thus far, I think we have 6 pull requests originating from the Scala Spree.
Through these events, our hope is to convince you that sbt, Zinc, or even Scala compiler are accessible Scala programs. Thanks to all the maintainers and participants, and thanks again to Tapad and Scala Center!" — Eugene Yokota, sbt Maintainer
"I arrived at the event feeling out of place as a newbie to Scala, but everyone was extremely supportive. Jorge in particular basically took me under his wing and guided me through the steps to create (my first) two pull requests. I felt a sense of accomplishment afterwards and overall really enjoyed the opportunity to learn about open-source from the maintainers themselves." — Samantha Li, Tapad Engineering Intern, Scala Contributor
"Scala Spree NYC at TAPAD was such an unforgettable experience. We (the participants) were given an opportunity to meet face-to-face with many open source library maintainers. While working with Eugene (@eed3si9n ) and Dale (@dwijnand) on sbt I was able to fix and submit my first pull request. I am so proud to be able to contribute to the open source community.
The event was well-organized, everyone was super friendly. It was a pleasure to meet everyone. Great job!" — Alex Khvatov, Engineer, Scala Contributor
"The Scala Spree in NYC was a fantastic event. The chance to work directly with a maintainer was an extremely effective way to learn project specifics around processes and consensus, enabling a smooth and successful first contribution. I also built relationships with the maintainers that should help with future contributions and community building. Thanks to Scala Center and Tapad for hosting and supporting this event!" — Chris Phelps, Engineer, Scala Contributor
"I think the Scala Spree was a great initiative to get us into open source projects and overcome the initial barriers to the open source world. I loved having mentors that were actual contributors to the repos that we had to work on." — Ananth Narayan, Tapad Intern, Scala Contributor
#Scalalove
Scala Spree Love


As the event came to an end there were 15 closed pull requests and free Scala Center shirts were handed out. Everyone gathered for conversations about Scala which eventually shifted to talking about hidden, and not so hidden, treasures of New York City. It came as no surprise that our teams bonded over fine dining, karaoke, and mutual love for cinema. Throughout the week we continued to connect with the contributors, Maintainers, and the Scala Center team over pizza and drinks! Needless to say, working with Darja was a true pleasure.
And the feeling was mutual;
"Just as I was about to give up, with less than 2 weeks before the Spree, Tapad (or as I like to call them, the Angel Team) came to the rescue along with LightBend offering food and beverages!
THE most important are the people behind this amazing event. I am eternally grateful for Chin, Amanda, Meri, and Djoye's enthusiasm, responsiveness, warm welcome and professionalism — as a bonus, I made new friends! It is such a freeing feeling to work with a "yes-we-can" group of people!" — Darja Jovanovic, Communications Manager @ EPFL, The Scala Center
All in all, I think we can speak for all when we say, there's only one #Scalalove!
For more Scala Spree information follow @scala_lang and @darjutak. And of course, follow Tapad Engineering on Twitter and Medium for additional Scala discussions, educational pieces, and open jobs in NYC and Oslo.'
This article was written by Tapad Engineering and posted originally on Medium.