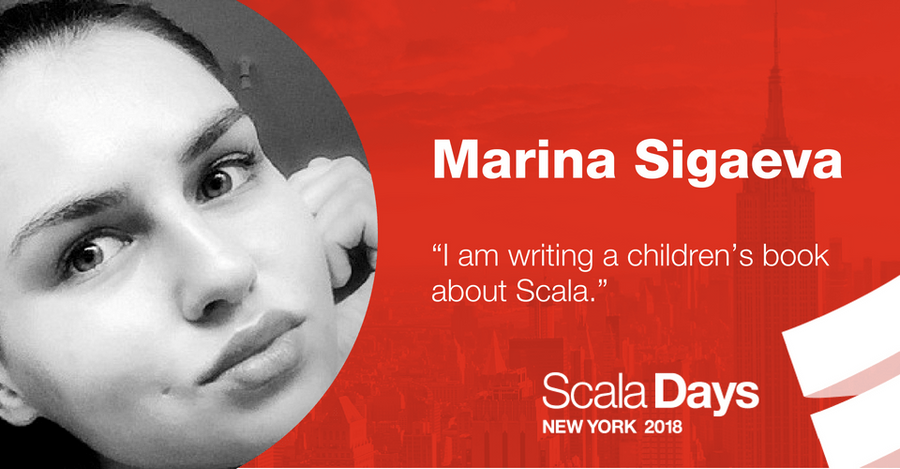 Did you enjoy Scala Days? There was an array of great talks throughout the conference, one of which was from Marina Sigaeva. Before the conference Scala Days spoke with Marina on her background, her Scala journey and what her biggest challenge has been.
'A software engineer who graduated from Lomonosov MSU with a degree in Physics, Marina Sigaeva is a fashion, ballet and travel addict who, in her own words, "loves life and Scala". In advance of her talk "Scala is for everyone" on June 20th at Scala Days in New York, we spoke to Marina about her vision of Scala and why she's writing a Scala book for kids.
What's your background and what do you focus on these days?
I've graduated from Lomonosov Moscow State University with a masters degree in physics. My first and only workplace in Russia was at a bank. I was lucky as, shortly before I joined, the company started a new project of migrating their main system to Scala. After working there for five years, I accepted an offer from an Australian company and moved to Sydney. Currently, I work as a software engineer at Quantium where my work revolves around data analytics technologies.
I run free live coding Scala seminars in the Quantium head office. My audience is external people – from those who are new to the tech industry to experienced software engineers with background from different programming languages. Also, I am writing a children's book about Scala. It is a fairytale for kids as little as 3 years old.
Why did you pick Scala and what kind of problems does it solve for you?
When I got to my first internship I had no idea about Scala. The job interview was in Java and Scala wasn't mentioned at all. When I started working on the project, the code didn't look anywhere near to what I expected. I was given my first task with the words, "It has slightly different syntax. You'll get used to it". And I did.
Scala is a very powerful tool gaining more and more popularity all over the world. You can create a Scala project in one click using Gitter templates with sbt. An app with the whole range of different databases and frameworks can be created from scratch within an hour or so.
But the best part about Scala is that even after five years I still enjoy using it every day.
What's the most important challenge Scala developers are facing today?
Scala became very popular in tech industry within last few years, but there is a massive shortage of experienced functional programmers. Often newcomers with experience in other programming languages learn Scala syntax and use it in a non-functional way, which diminishes the main Scala advantage.
What's one thing that could address this challenge?
We need to grow the community by creating more meetups, workshops and educational programs.
Who should attend your talk at Scala Days and why?
Anyone who wants to learn or teach functional programming in Scala and is not sure where to start. I will share my experience in both fields and will be happy to answer any questions.
Whom would you like to connect with at the conference?
My goal is to create an educational program "From Zero to Scala Hero" and I'd like to connect with like-minded advocates, who are happy to talk about their experience in teaching programming.'
This article was written by Scala Days and originally posted on blog.scaladays.org