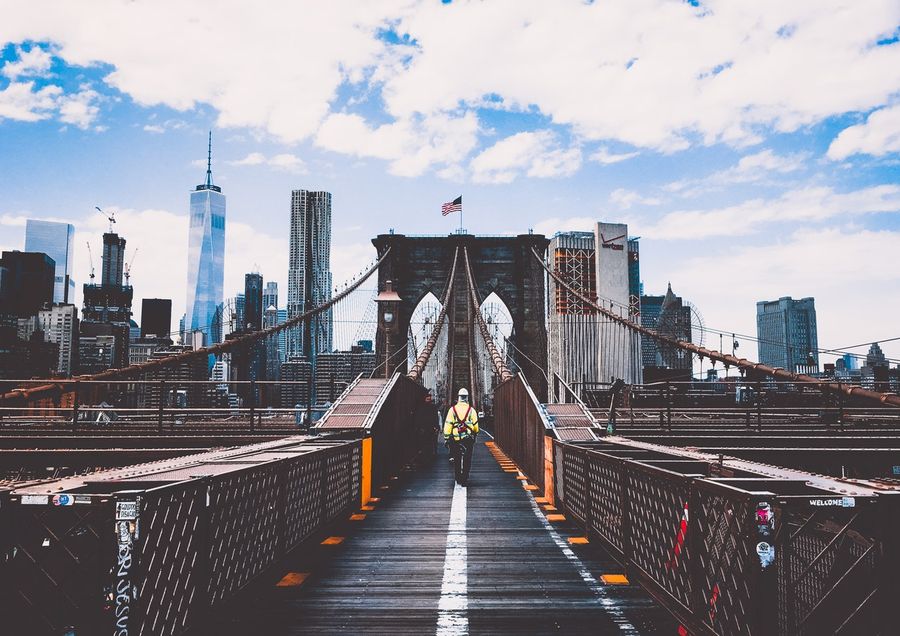 New York is the City that never sleeps. There is an abundance of activities from museums to markets to explore which makes it a great place to set up home in and with a diversity of culture, food and opportunities many see New York as the dream destination to adapt to. We currently have some great roles available in New York so we thought we would put together a New York know it all in order to help you decide whether you are ready to make the jump to the Big Apple.
Why is it called the Big Apple?
Many people considered the origin of the term Big Apple to be a mystery however researchers at Missouri University of Science and Technology managed to determine the most likely meaning. "Apple" referred to many of the big horse racing courses around New York (possibly due to the fact that horses liked apples). The term was then popularized for the first time by John J. Fitz Gerald in The New York Morning Telegraph when he mentioned going to the "Big Apple" as in going to the "big time venue". Fitz Gerald soon began making mention of the Big Apple in his newspaper columns. It was then used by jazz musicians in the 1930s and made a resurgence again in the 1970s when it was used in a tourist campaign. It was that campaign that made the phrase famous.
Interesting facts to know
New York is set to be home to one of the worlds first underground park called 'The Lowline' set to be completed in 2021. The proposed location is the one-acre former Williamsburg Bridge Trolley Terminal, just below Delancey Street on the Lower East Side of Manhattan.
New York City is the city with the largest Polish population after Warsaw and the City is the most linguistically diverse city with over 800 languages spoken, and 4 in 10 households speak a language other than English.
France gifted the Statue of Liberty to the United States in 1886 for its centennial celebration. The statue was shipped as 350 pieces in 214 crates and took 4 months to assemble at its current home on Ellis Island.
The Bronx Zoo in New York is the largest city zoo in the United States with over 500 species and 4,000 animals.
New York City has more people than 39 of the 50 states in the U.S. so you are never far from a conversation to be had!
Why make the big move?
Diversity. One of the most attractive things about the City is that there is diversity in everything you see whether thats the food, the people or the festivities. Being in an environment where you can see something different every day allows your to grow and adapt which in turn only benefits you. You will never get tired of trying the latest foodie trend or attending the biggest conference or event in the City.
Always something to do. With such diversity it means you are never without something to do or see. The social life revolves around happy hours, launch parties, gallery openings, and band performances. You're always meeting new people, experiencing new things, and discovering new places with bottomless drinks on offer. However, if you're new to New York check out this top list of 101 things to do from TimeOut New York.
Career Opportunities. Known as the City of dreams you can be sure to start your dream career and with so many people with the same goal whatever your career aspirations you can be sure you will meet people along the way to give you a helping hand. Opportunities to take the next step in your career will be there so as long as you are ready for the step up then your aspiration will be reality.
AND The bars are open until 4am so you really can stay out until the early hours of the morning. With an array of choices from cocktail bars to beer holes you can fully take advantage of your weekends.
The working life
Office happy hour options are in abundance. When your work in New York you will have various options for working lunches and office happy hours. Socialising at the end of the day with your colleagues will become one of many highlights and with weekdays being the most popular nights out you are spoilt for choice for where to go once the office closes.
Commuting by public transit is the norm. According to recent Census Bureau figures, 55.6% of New Yorkers take public transportation to work, 0.8% bike to work, 10.3% walk and 3.9% work at home. Therefore, if you're a fan of just jumping on and off instead of the hassle of driving and parking then the commuting lifestyle is ideal for you.
There are professional support opportunities. As the City is so populated it has many professional support opportunities for those in the career ladder. Whether it's networking events or conferences allowing you to learn and meet new people to help you progress there are many resources to make use of.
If you think New York may be the place for you then see our current opportunites available in the Big Apple.
​