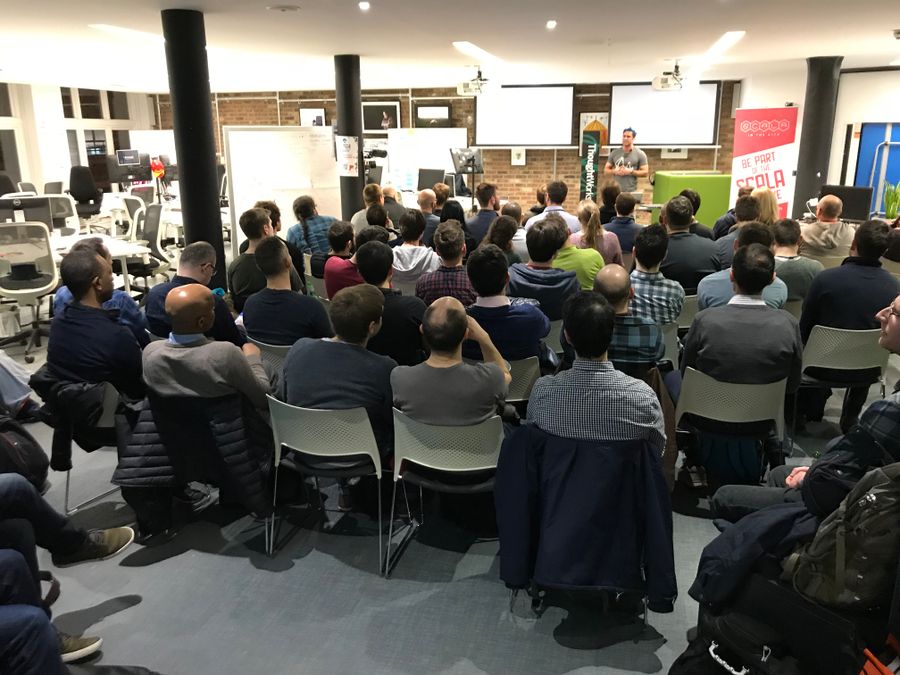 First of all thank you to everyone who attended Scala in the city last night, myself and the team really appreciate the effort you all made to attend, we had a great amount of people attend so thank you. We hope you enjoyed the drinks, food, swag and of course the amazing talks. We are working hard to create an event everyone can enjoy and ultimately learn at.
Congratulations to Harrison Baxter for winning our ticket to Scalar in Poland next month, we hope you enjoy the conference.
Our next event is on Thursday the 26th of April hosted at Uswitch, this event will focus on Block chain and Scala. We will be announcing the talks shortly.
Thank you to ThoughtWorks for hosting, and a massive thank you to our three speakers Andreas Koestler, Christopher Batey and Lance Paine, you guys rocked. We discussed three topics which we felt were really thought-provoking. We will be sharing the videos of each talk in the next few days so watch this space. In the meantime below are the slides-
Andreas Koestler, Senior Software Engineer at Property Partner- Slides for Type classes- A principled approach
Christopher Batey, Senior Engineer at Lightbend- Slides for A tour of Akka Typed
Lance Paine, Scala Software Consultant at Barclays Wealth- The return of the monolith: Slides for How we increased throughput by embracing scala on client and server with scala and scalajs.
Your enjoyment is at the forefront of everything we do, we would really welcome your feedback. Did you enjoy the event, did you learn from the talks and what subjects would you like to see discussed in future events? Feel free to post comments or email us directly.
Organisers- @Signify_Tech Follow us- @Scalainthecity
Thank you from everyone at Signify/Scala in the City