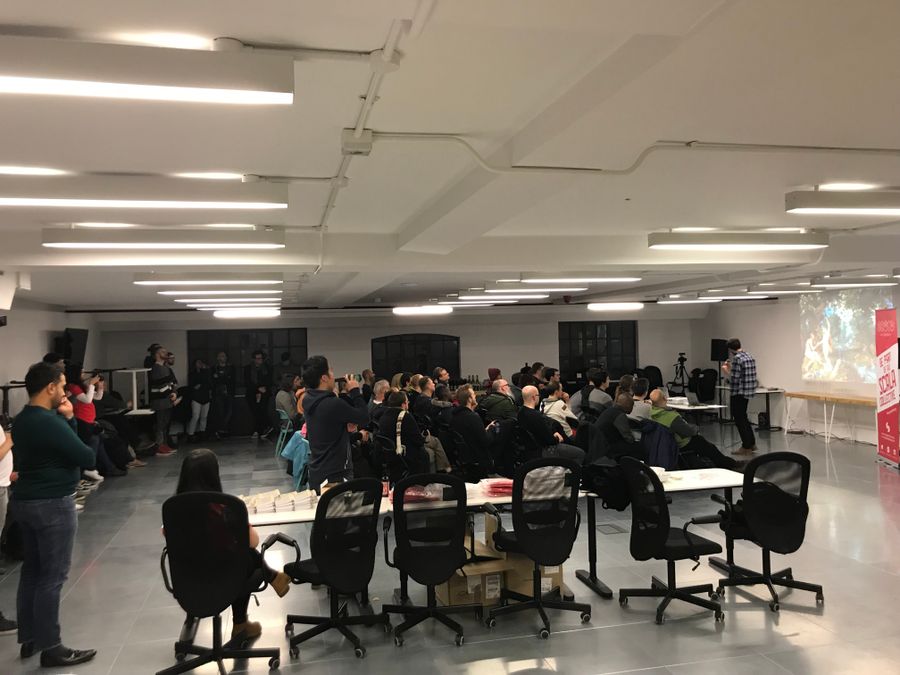 First of all thank you to everyone for braving the snow and the absolutely freezing conditions that we have faced this week to attend the first Scala in the city last night, myself and the team really appreciate the effort you all made to attend.
We were really worried we may have had to cancel the event because of the weather but we powered on and I am so glad the event turned out to be a great one. We had 70+ people attend so thank you everyone. We hope you enjoyed the brewdog beer, meter long pizzas and the tee shirts etc. We really wanted to create an event everyone can enjoy and ultimately learn at.
Thank you to Habito for hosting, and a massive thank you to our three speakers Tom Harding, Bastien Louërat and Juliano Alves you guys rocked. We discussed three diverse topics which we felt were really thought-provoking. We had a lot of questions at the end of the presentations so we thought we would share the slides of each talk below and we will be sharing the videos of each talk in the next few days so watch this space.
The winner of our free ticket to Scalar in Poland is Dan Dixey @dandxy1, well done Dan, we hope you enjoy the conference.
Slides of talks-
Tom Harding, @am_i_tom , Software Engineer at Habito- Slides for Scrap your virtual DOM
Second talk- Bastien Louërat, @blouerat , Senior Software Engineer at Habito- Slides for Parser Combinators: A Type-Driven Approach To Input ProcessiEOF
Third talk- Juliano Alves, @vonjuliano, Software Engineer at uSwitch-Slides for A Practical Theory of Language-Integrated Query with Quill
Your enjoyment is at the forefront of everything we do, we would really welcome your feedback. Did you enjoy the event, did you learn from the talks and what subjects would you like to see discussed in future events. Feel free to post comments or email us directly.
Our next event is on Wednesday the 21st of March hosted by ThoughtWorks, we will be announcing the talks shortly. Don't forget to sign up early.
Organisers- @Signify_Tech Web- http://www.signifytechnology.com
Follow us- @Scalainthecity
If you are interested in talking at any of our events, hosting an event or if you would like to chat please get in touch on 02038650621 or email us on info@signifytechnology.com
Thank you from everyone at Signify/Scala in the City