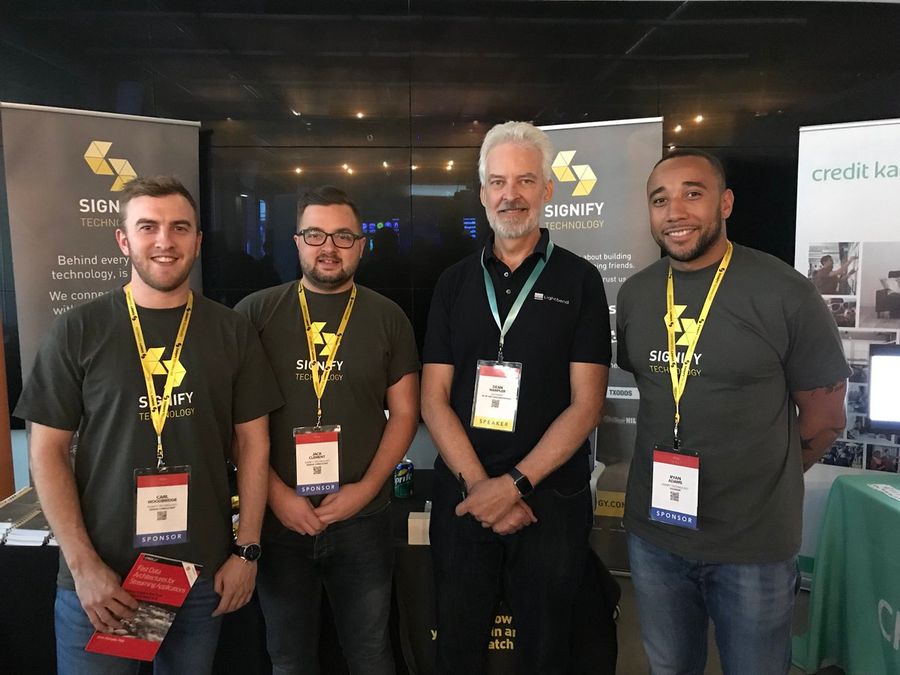 In a first for Signify, we sponsored Scale By the Bay in resplendent San Francisco, with Carl, Jack and Ryan representing Signify Technology as a gold sponsor of the main technical conference hosted at Twitter HQ. We were particularly impressed to have a stand in the same vicinity as Apple, Salesforce, Spotify, Lightbend, Comcast and Workday, and attendees still chose to spend time engaging with us at our stand, meeting existing industry friends and making new ones. We had the chance to meet Iratxo and Iniyan, who won tickets to Scale By the Bay through our competition last month. We always endeavour to support the Scala community in anyway possible and being able to give two people the opportunity to attend Scale By the Bay, who may not have been able to otherwise, felt really good. It was also incredible to meet Dean Wampler VP at Lightbend & Author of several Scala Functional books. We managed to get Dean to sign our copy of Fast data architectures for steaming applications and a photo too!
Attendees were commending the speakers, talks, and open track sessions. For those of you who couldn't attend, we thought we'd share the slides and videos from some of the popular talks from Scale By the Bay:
Video of Scala 2.13 & Beyond by Adriaan Moors
Slides of Scala 2.13 & Beyond by Adriaan Moors
Slides of Nelson: Rigorous Deployment for a Functional World by Timothy Perrett
Video of Analyzing Functional Programs by Dave Cleaver
Slides of Analyzing Functional Programs by Dave Cleaver
Video of FS2 Internals: Performance by Michael Pilquist
Video of Functional Programming with Effects by Rob Norris
Video of Apache Flink and the Next Wave of Stream Processing Applications by Stephan Ewen
We ran our Series 3 Apple watch competition and had 60 entries but there could only be one winner; the lucky attendee chosen at random (with a helping hand from Wheel Decide) was Rebecca Star from Comcast. Congratulations Rebecca! We are so grateful to have spoken with fellow Scala enthusiasts and saw a few familiar faces too. Many thanks to Alexy for hosting a fantastic event, in stunning San Francisco and for choosing Signify to partner with. View Alexy's photos of the event and feel like you were part of Scale By the Bay 2017. Signify will definitely be looking to return next year.
If you love San Francisco and all things Scala, we are currently recruiting for clients over there with several roles. Our current favourite San Francisco based jobs are:
Senior Scala Software Engineer
Not that we really need to give you a list of reasons to persuade you to work By the Bay, BUT as we've been and absolutely loved it, and working on a number of roles over there, it would be rude not to! Here are 5 TOP reasons to work in San Francisco.