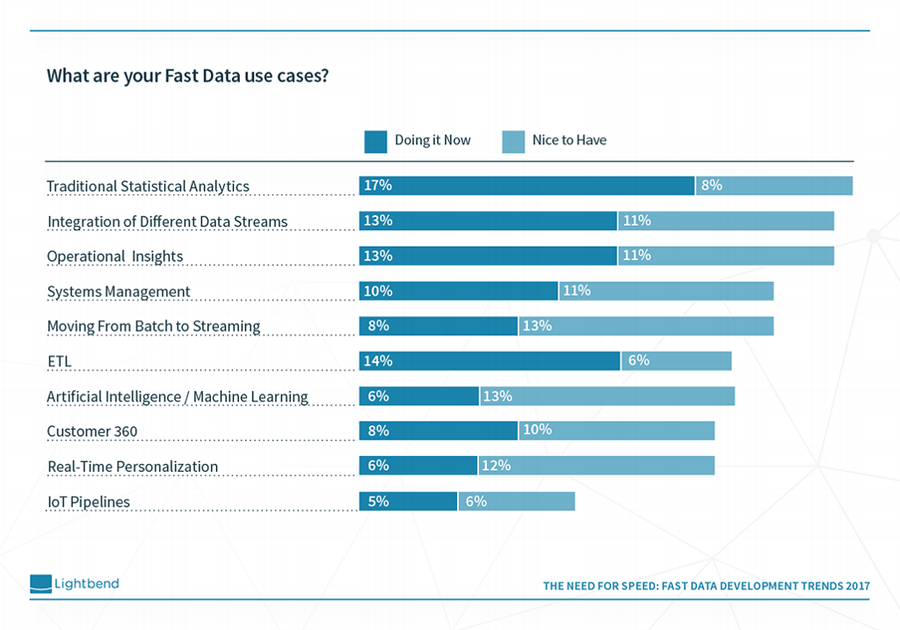 'The Need For Speed: Fast Data Development Trends 2017' is a research piece conducted by Lightbend in June 2017, and Lightbend recently released the results with insights on the impact of "Data in Motion" in the real world.
The unprecedented growth in data, is creating huge implications for how enterprises interact with data to create future business opportunities which is where fast data comes into play. Fast data is surrounded by uncertainty, hype and confusion so have a firmer grasp on the state of fast data, Lightbend surveyed 2,457 global developers. Analysts indicate the adoption of fast data is happening at a rate three times faster than traditional Hadoop. This report explores why the fast data market is moving at high-speed, and leverages real-world insights to examine adoption trends across three key areas — business value, use case, and technology. Here at Signify, we've read through the report and highlighted our favourite stats from the research:
Batch vs Streaming: The move to real-time data is accelerating. Developers say 90% of their data processing workloads include a real-time component. The need for speed increases as use cases climb the maturity curve. Rather than batch versus streaming, enterprises will need batch and streaming to succeed with fast data.
Technology Shifts: 55% of developers say they are choosing new frameworks and languages based on fast data requirements. However, with the new ecosystem of streaming engines, developers and architects say they have the authority to choose the right tools but lack guidance.
An overwhelming majority of developers (83%) reported they are obligated to use data faster today than two years ago.
Some industries are getting it faster than others, surprisingly, senior management in agriculture are ahead of the game with high tech farming rapidly becoming the standard thanks to agricultural drones and sensors.
Emerging ecosystem not fully understood: New fast data tools are emerging at a rapid rate and developers will need to mix and match tools based on decisions between latency, volume, transformation, and integration.
Fast data and microservices go hand in hand: The survey reveals 55% of developers are using or plan to use microservices in production. For developers already running advanced fast data uses cases in production, microservices adoption climbs to 75%.
You can download the full report here. This survey also generated $5000 towards the Kojics Foundation – incredible work, Lightbend!
Have you always wanted to work for Lightbend? Now you can – Signify is currently partnering with Lightbend to recruit for a Senior Consultant position. Apply here!